Rebrand increases salsa company sales by 6.3%
Client
Mrs. Renfro's is an 80-plus-year-old, family-owned salsa and condiment company with international reach, known in more than 30 countries for their range of quirky and sophisticated flavors at affordable prices.
We worked for years to get away from "looks really cool and artistic but so subtle that you have to get a microscope to see it" creative. It makes me smile that we've achieved this.
The Challenge
After more than two decades with the same look, Mrs. Renfro's was eager for a rebranding and a fresh campaign. Third-generation owners Doug Renfro, Becky Renfro Borbolla and James Renfro wanted to appeal to new audiences, especially millennials, without losing their family-centric roots. And of course, selling more salsa was always a goal.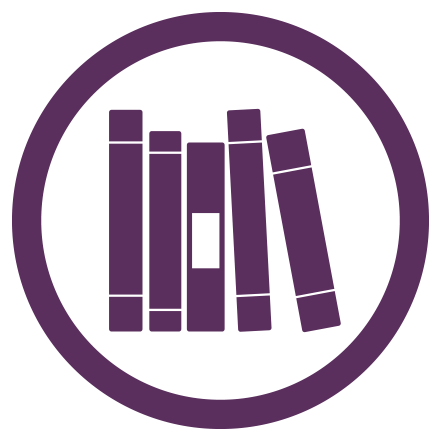 Insight
Our team performed several different types of research: capturing the crucial family connection by digging through old Renfro family photos and touring the facilities with charismatic Mrs. Renfro's President Doug Renfro; analyzing engagement on the Mrs. Renfro's social media channels to find that posts showing recipes generated twice as many engagements as non-recipe posts and followers often shared their own recipe ideas using Mrs. Renfro's products; and leveraging secondary research to learn that meals and snacking tend to stay top of mind for consumers, discovering U.S. home cooks visited online food sites more than 9 billion times in 2017 and 90.6% of consumers chose snacks based on flavor.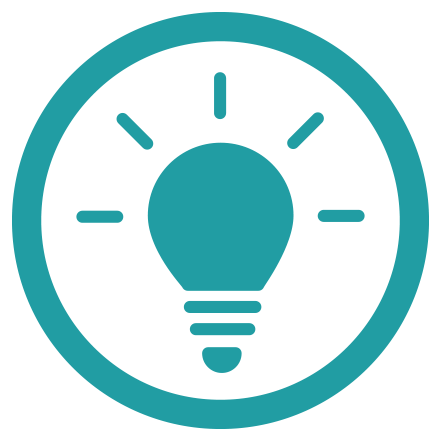 Creativity
The new branding blends tradition and innovation. Colorful new labels with clever, yet minimalist, illustrations create a retro-modern look that pops off the shelf. Ads, shipping boxes and social media content celebrate flavor with a combination of old family photos, bright colors and quirky headlines – and, often, recipes. Some of our most popular additions to the social feeds were videos of Bill and Jack Renfro, the 80-plus-year-old sons of the original founders, talking about their favorite salsas and reacting to product reviews. It's all tied together by the tagline "True to family. True to flavor."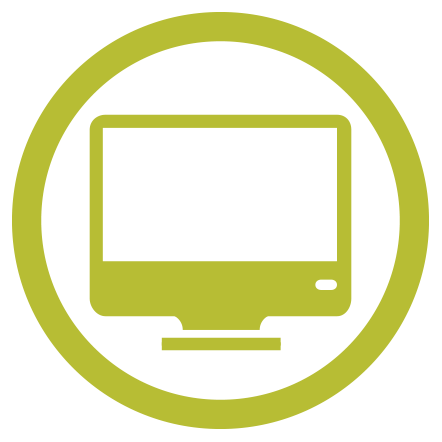 Technology
To capture the interest of multiple generations (including millennials and Gen Z), we leaned heavily on social media, with half our social budget going to Facebook and half split between Instagram and Pinterest. Pinterest efforts focused on seasonal recipes. Instagram included a grid takeover to introduce the new branding; Stories to show the videos, "shelfies" (our name for user-generated, in-store product photos) and fan reviews; and strategic hashtags to increase reach. While the media budget didn't include Twitter, we tailored organic content for that platform and used it to answer customer questions and concerns. Mrs. Renfro's also recently invested in amplifying its Amazon presence and distribution and tasked Balcom to completely redo its website, MrsRenfros.com, which launched in May 2021.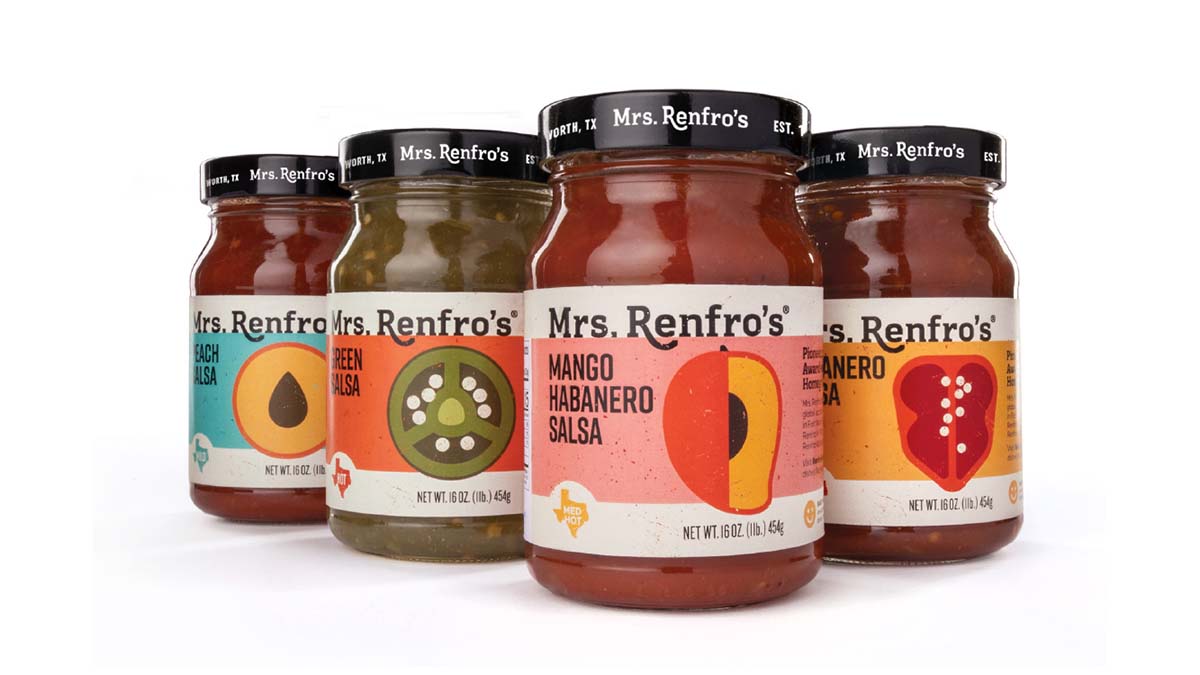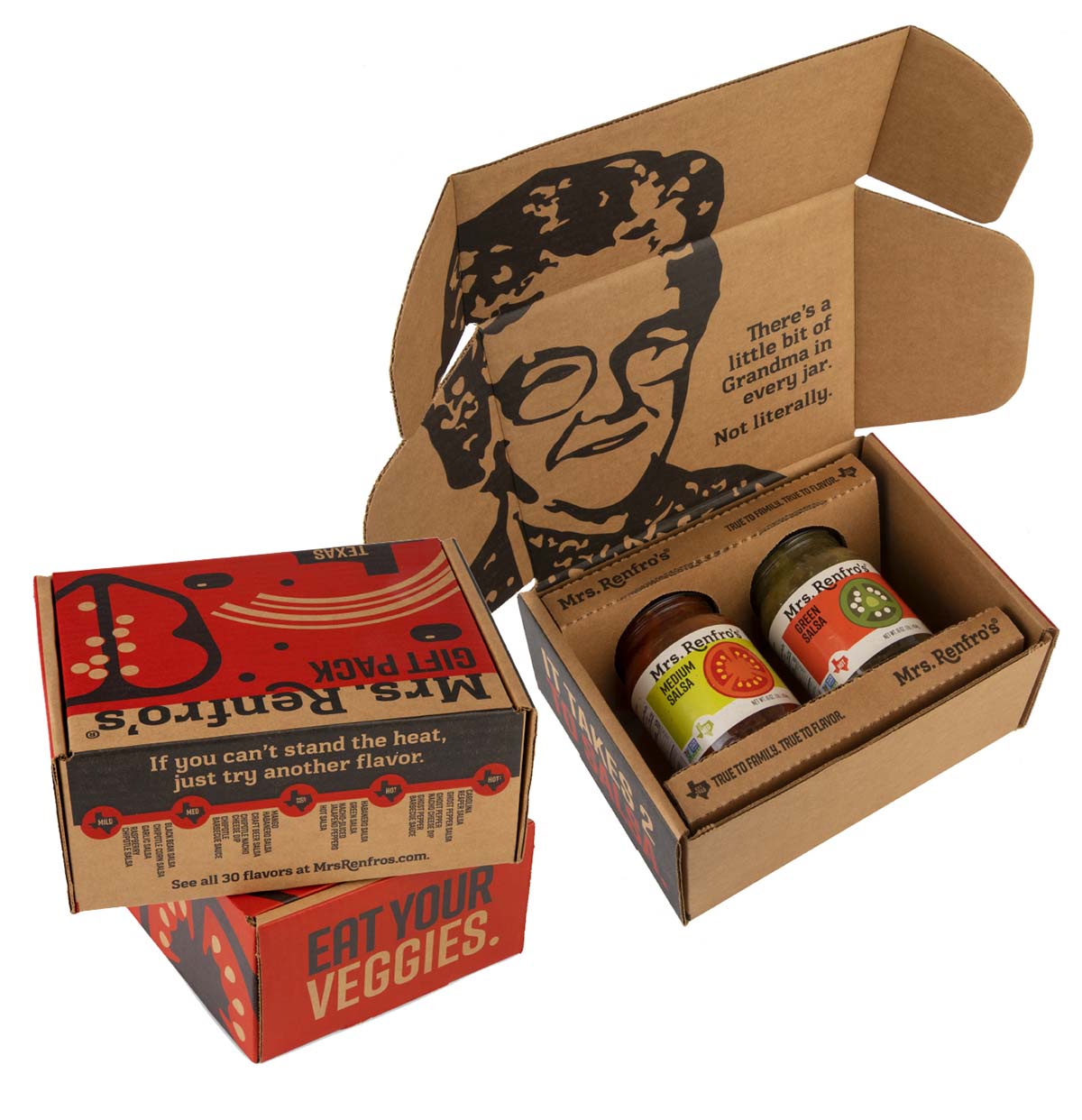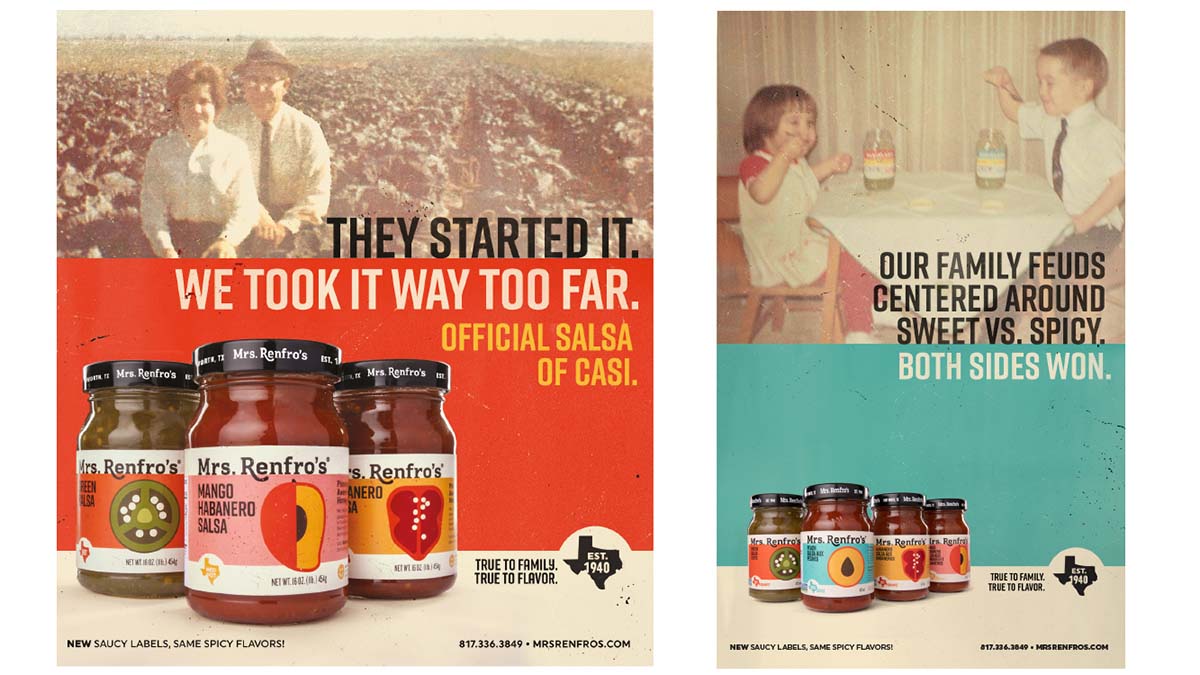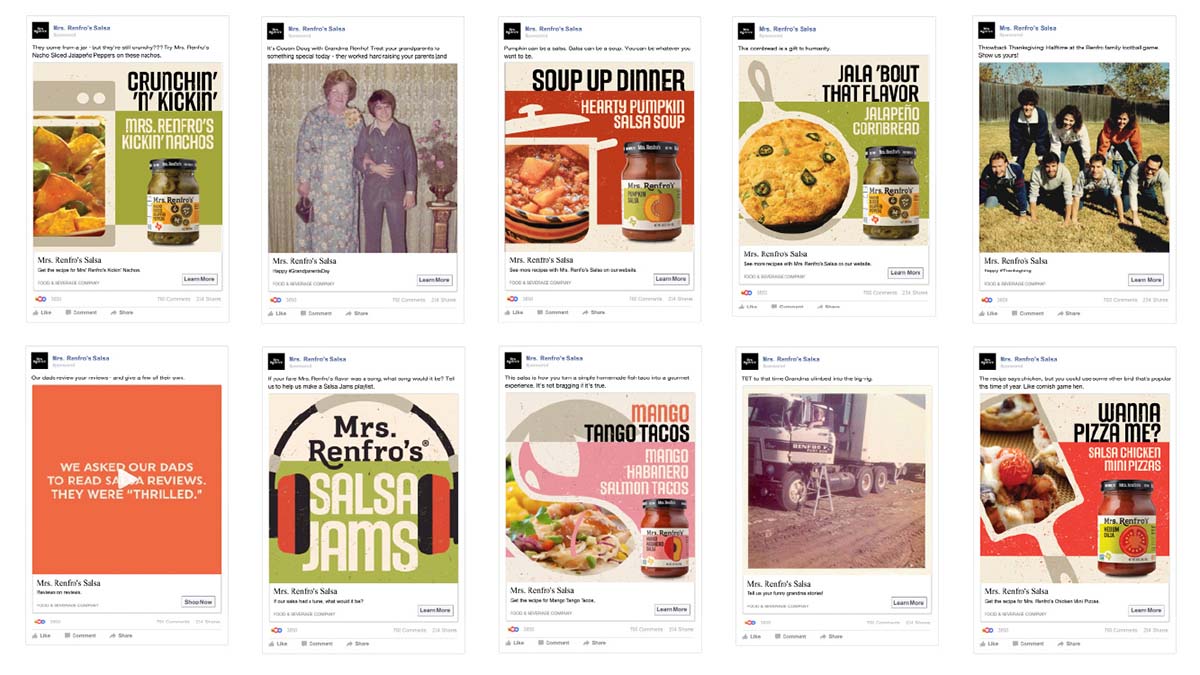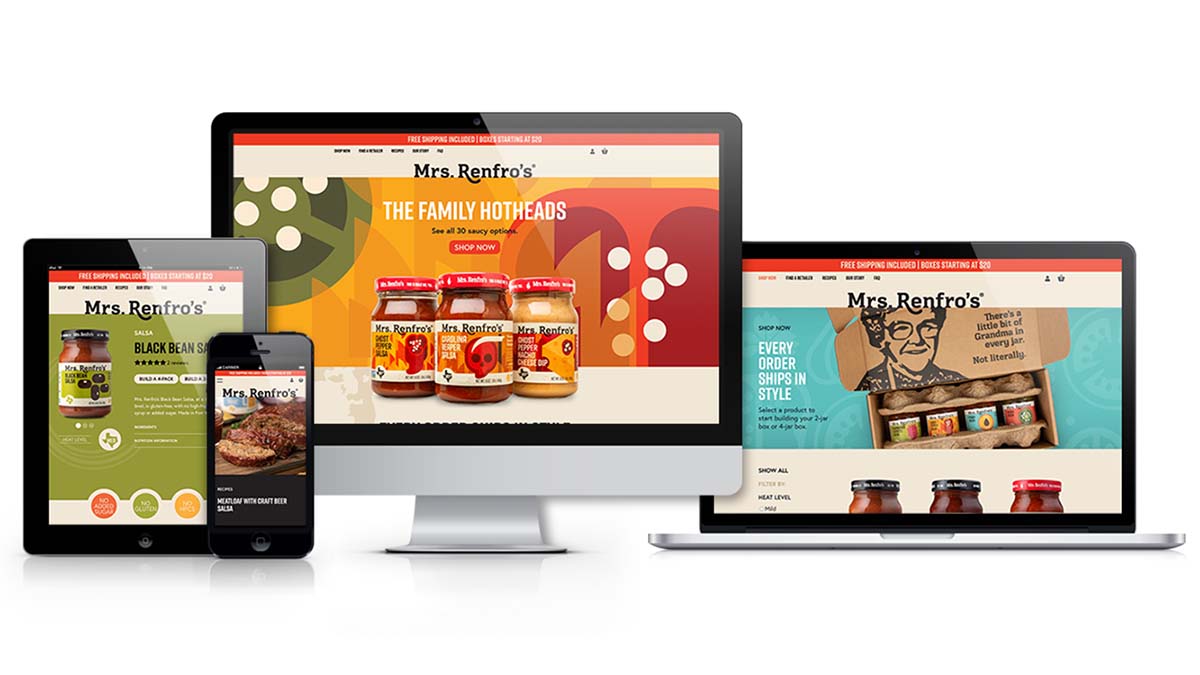 The Results
From June through December 2019, we reached 8.5 million people with 25 million impressions and helped increase sales volume by 4.4% and dollar sales by 6.3% – a trend that continued throughout the pandemic, even above and beyond the 30% average industry increase seen during lockdowns.*
On the social side, we saw 185% fan growth (blowing past our 8% goal) and a 71% increase in engagement year over year. Millennial Facebook results (including comments, video views, click-throughs and more) increased by 1,000%.
The new website saw a record number of orders in Q2 2020, with a 49% decrease in cart abandonment and an increase in average value per order from $27.89 to $34.40.
Within a year, new IRI data showed that Mrs. Renfro's is doing extremely well with in-store purchases, partially due to improved labels; with retailers in general (up 26%); and against industry norms.
Stats
49% decrease in cart abandonment
6.3% increase in dollar sales*
185% growth in social media followers
Awards
2021 Worthy Awards
Worthy Award – MrsRenfros.com – Website
Award of Excellence – Second-Generation Dads Videos Series – Social Media/Digital Communications
2020 District 10 American Advertising Awards
Special Judges Award – True to Family. True to Flavor. – Art Direction, Campaign
Gold ADDY – True to Family. True to Flavor. – Integrated Brand Identity Campaign
2020 Fort Worth American Advertising Awards
Special Judges' Award – True to Family. True to Flavor. – Best Branding
Gold ADDY – Better Than Crack – Branded Content and Entertainment
Gold ADDY – Ghost Pepper Reviews – Branded Content and Entertainment
Gold ADDY – True to Family. True to Flavor. – Integrated Brand Identity Campaign