Winning the Big One at the Local American Advertising Awards
Although Creative Director Carol Glover reminds us every year that awards are just one small representation of our success as advertisers (results for our clients are much more important), it still feels good to be recognized by advertising peers for our creative work. That happens every February at the Fort Worth American Advertising Awards. And this year, we were honored with the big one – Best of Show.
The B Team earned a total of 42 awards, in categories ranging from traditional print advertisements to social media campaigns. Our two biggest awards were for video and branding.
Take a look at the work.
BEST OF SHOW
Cavender's – This Is How We Live – Brand Anthem
The highest scoring entry of the competition was this brand anthem video we created for Western retailer Cavender's. David Esmond, Cavender's director of marketing, came to us with a vision for a campaign focused on authenticity. Under the leadership of Balcom Multimedia Creative Director Taylor Potts, we brought in documentary filmmaker Bud Force and famed photographer John Langmore (co-directors of the award-winning documentary COWBOYS), while Daniel Kenneth Libby provided an outstanding cover of a traditional cowboy song written in the late 1800s. Bruton Stroube provided postproduction, including sound design that also earned a gold award. Nothing was staged, nothing was scripted; we only featured people who really live the Western lifestyle.
---
SPECIAL JUDGES' AWARD – BEST BRANDING
Mrs. Renfro's – True to FAMILY. True to FLAVOR. – Rebrand
The judges create Special Judges Awards to celebrate exceptional work on top of the competition's standard points system. Balcom earned this one for our work rebranding international salsa company, Mrs. Renfro's. Third-generation owners Doug Renfro, Becky Renfro Borbolla and James Renfro trusted us to take the look in a wildly new direction. Simple-yet-clever illustrations by Balcom Senior Art Director Holly Aguilar create an iconography that really pops off the shelf and is easy to read from a distance – all tied together by Writer Stephanie Orges' tagline that blends the brand's tradition and innovation, "True to family. True to flavor."
---
Cavender's
On top of Best of Show, the Cavender's videos earned one Bronze ADDY and 10 Gold ADDY's in the categories of internet commercials (single and campaign), cinematography, music and sound design.
---
Mrs. Renfro's
On top of the Special Judges Award for Best Branding, we won five bronze, seven silver and five gold ADDYs for the overall campaign as well as individual pieces in packaging, social media, print advertising, apparel and video.
---
Dairy MAX
The new look for our regional dairy council features custom illustrations from Arthur "Artman" James, co-developed by Senior Art Director David Sims and built into a comprehensive branding system designed by Balcom Art Director Jordan Hough, earning three bronzes and one gold for categories including websites, illustration and integrated brand identity. The new DairyDiscoveryZone.com, which incorporated those designs, was the only consumer-facing website to receive any award in this year's competition. The site was developed by Senior Interactive Developer Kyle Suva and Web Developer Ryan Amarit under the leadership of Interactive Creative Director Brian Blankenship.
---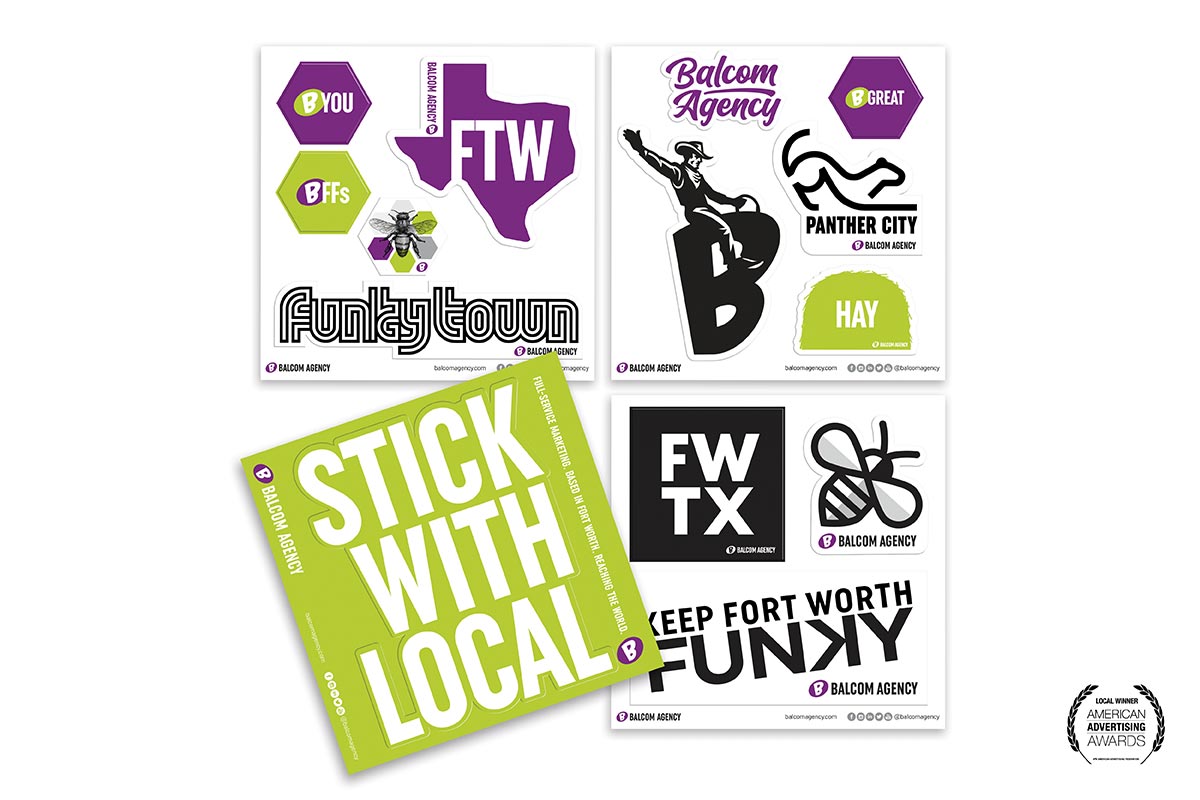 Balcom Agency
These funky Fort Worth stickers designed by Holly Aguilar were a big hit around the office (and with students we host for advertising talks). They earned a Silver ADDY.
---
Mrs Baird's
The Texas favorite scored two Bronze ADDYs for a social media campaign art directed by Holly Aguilar, animated by Multimedia Designer Hilary Rattikin and written by Associate Creative Director Jamie Fisher; and for internet commercials creative directed by Carol Glover, directed by Chris Rodriguez, produced by Taylor Potts and co-written by Jamie Fisher and Scott Porter.
---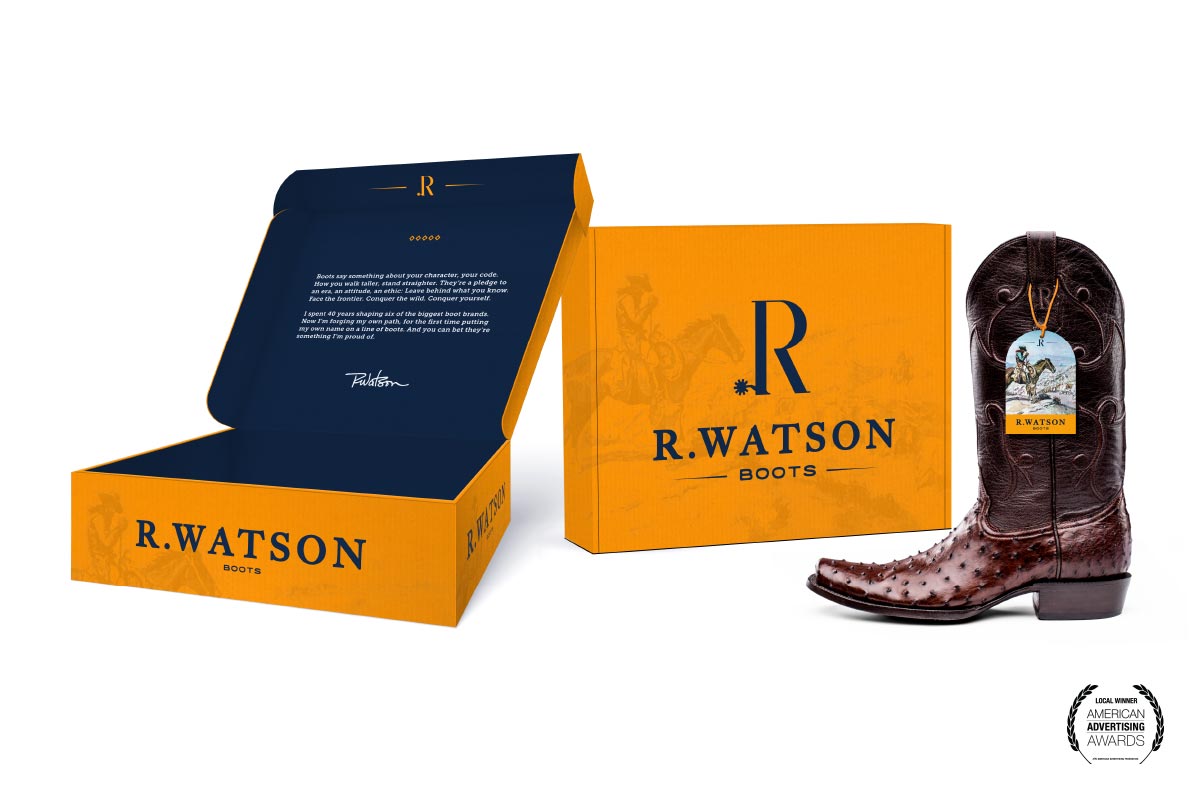 R. Watson Boots
The packaging designed by Taylor Potts for a new line of boots from industry sage Randy Watson won a Bronze ADDY.
---
Ball Park Buns & Rolls
3D Paper Illustrator Alicja Colon helped us create fantastical-yet-real scenes in this bronze-winning social media campaign for America's favorite buns, art directed by Jordan Hough and co-written by Jamie Fisher and Junior Writer Morgan Pettway.
---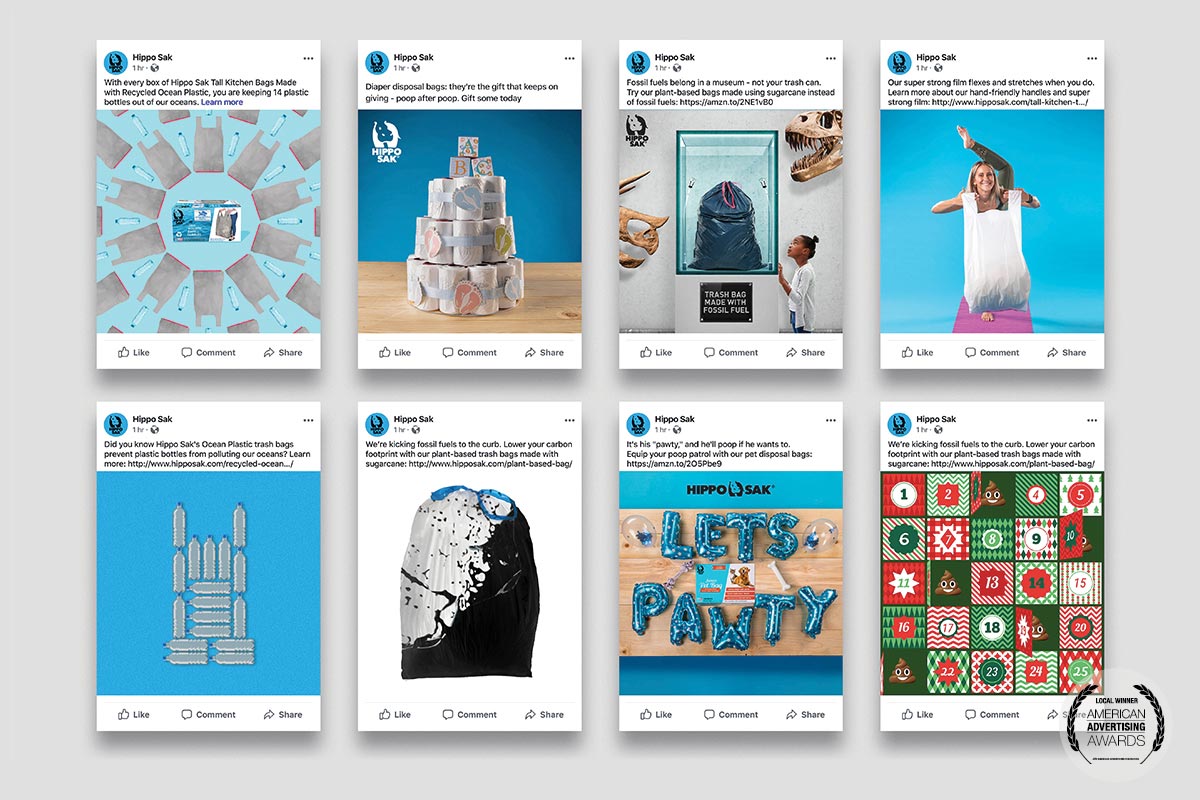 Hippo Sak
The B Team keeps coming up with creative visuals to tout the benefits of the brand's trash bag line in a bronze-winning social media campaign art directed by Jordan Hough, animated by Junior Art Director Izetta Holland and written by Morgan Pettway.
---
Presbyterian Night Shelter
This pro bono interactive campaign used a striking graphical approach to illustrate the complexity of homelessness and elevate the nonprofit's commitment to end homelessness in our community, designed by Holly Aguilar, animated by Hilary Rattikin and written by Jamie Fisher.
---
Sinclair Oil Corporation
The famous Sinclair DINO dressed up to tout the brand's TOP TIER™ fuel – and win a Bronze ADDY – in this TV spot creative directed by Taylor Potts, written by Stephanie Orges and David Jellison, who also directed.
---
Check out the press release for our full list of awards.