Union Gospel Case Study
Client
Union Gospel Mission of Tarrant County (UGM-TC) is a united Christian organization that has served thousands of men, women and children experiencing homelessness in Tarrant County, Texas. Since 1888, UGM-TC has addressed physical, mental, emotional and spiritual needs to help these individuals and families once again become independent, productive members of the community.
"We're thankful to Stuart and the whole Balcom Agency group that got involved. You helped make it a success. We're counting our blessings today. Thank you for the support in serving the homeless."
The Challenge
A major motion picture company was set to release a film based on the 2006 book Same Kind of Different As Me, about the friendship forged between an international art dealer and a homeless client at Union Gospel Mission in Fort Worth, Texas. Leveraging the opportunity to reach people who weren't familiar with UGM-TC – and ultimately to further their mission of ending homelessness – UGM-TC invited Djimon Hounsou and Greg Kinnear, two of the lead actors in the movie, to speak at the annual Winter Fundraiser. They asked Balcom to handle the promotion.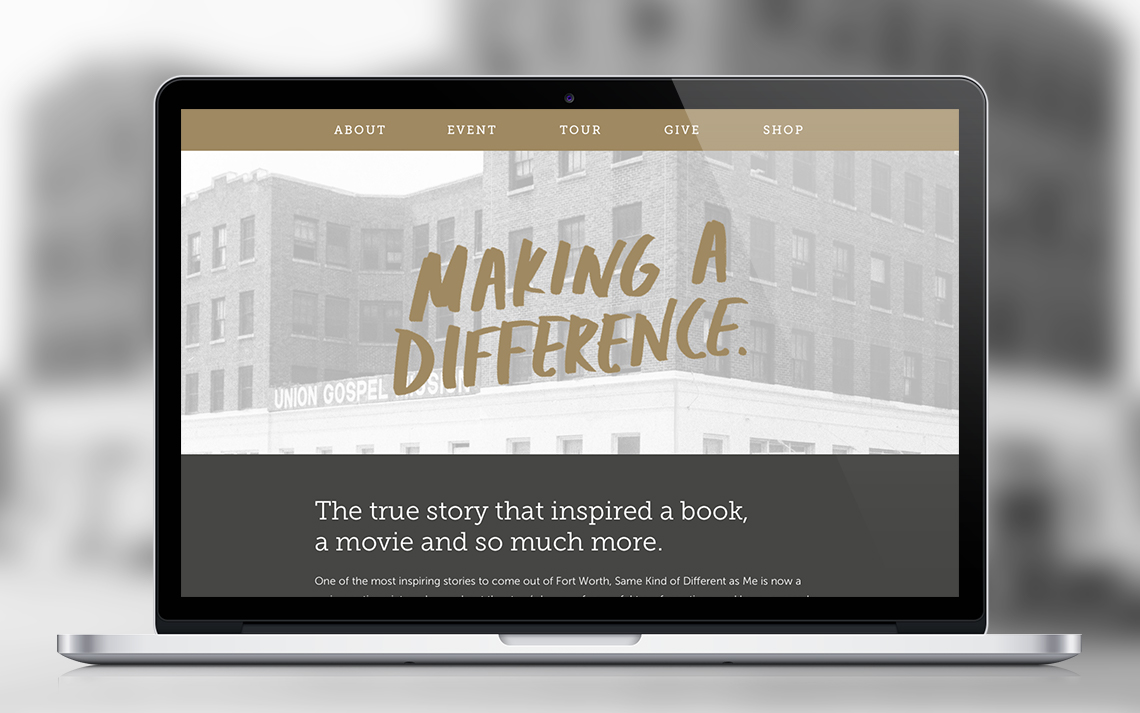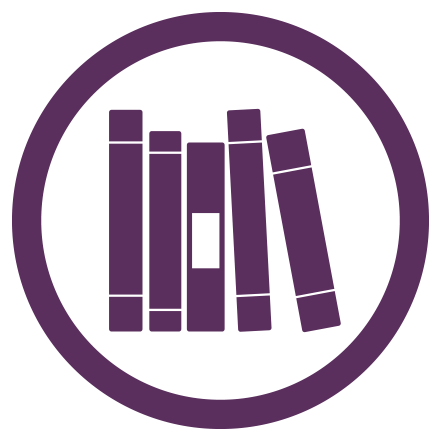 Insight
We developed a plan that would promote the mission before, during and after our fundraising event. The invitation and landing page became the core elements, supported by an integrated campaign across print, radio, social media and more. We also researched film tourism as well as quote-centric Pinterest and Etsy design trends for more ways to build excitement and awareness.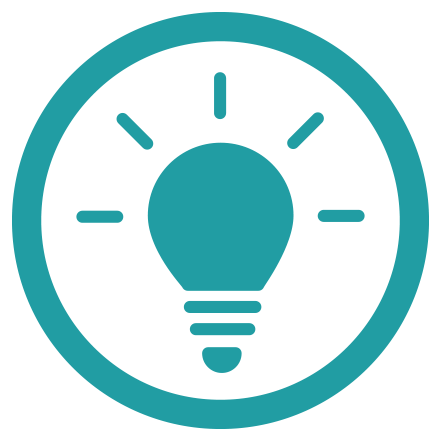 Creativity
With a split-face image of the two men featured in the book, we communicated the idea behind the story in a single image across all our creative, from the gatefold invitation to the landing page. We brought event attendees to tears with a video starring real UGM-TC clients reading from the book. We also created a downloadable "Story Behind the Book" tour booklet and trend-inspired, printable quote posters supporters could purchase as an additional fundraiser.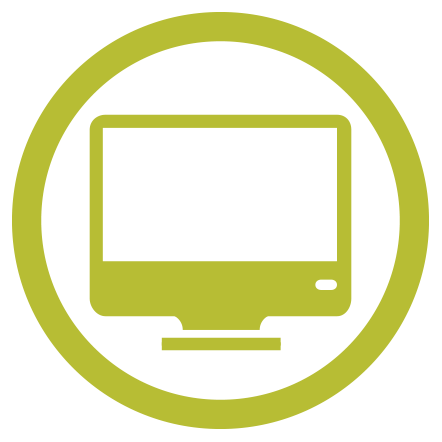 Technology
We targeted and tracked everything we could: Geo-targeted social, display and Pandora ads pointed people to a landing page about UGM-TC and its incredible story, which invited them to purchase seats and tables at the event. We tracked clicks, visits and downloads, but the most important numbers – event attendees and money raised – were also the most impressive.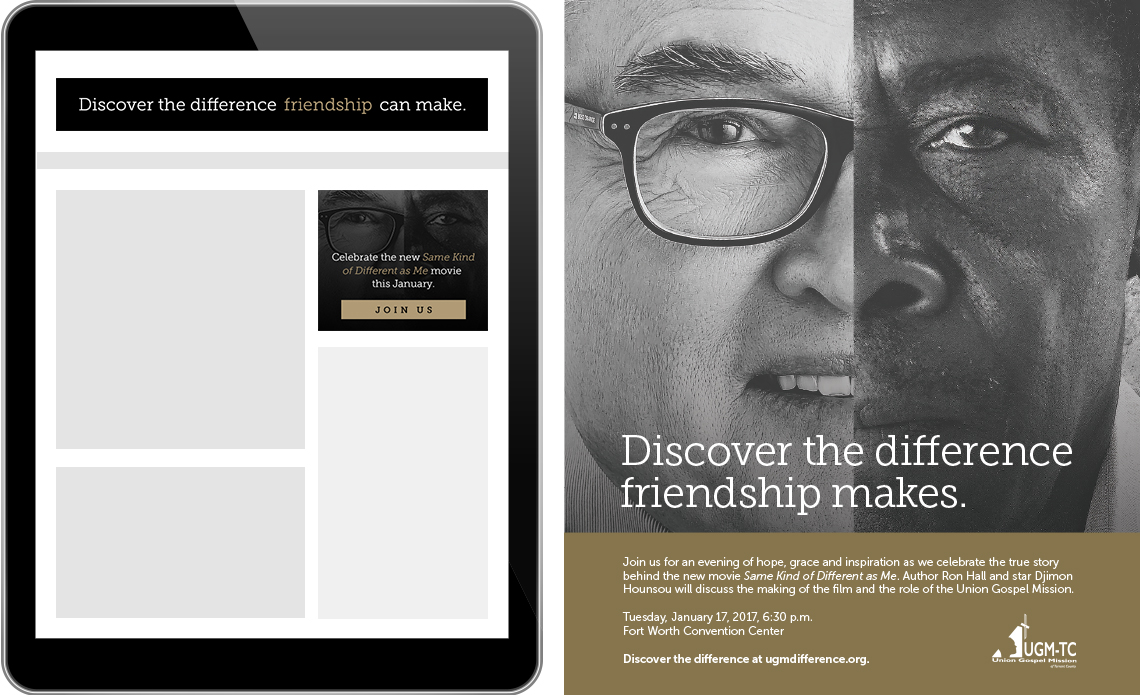 The Results
Double the profits of the previous most successful year
Stats
530 percent increase in individual ticket sales thanks to advertising on websites, Pandora, Facebook and more.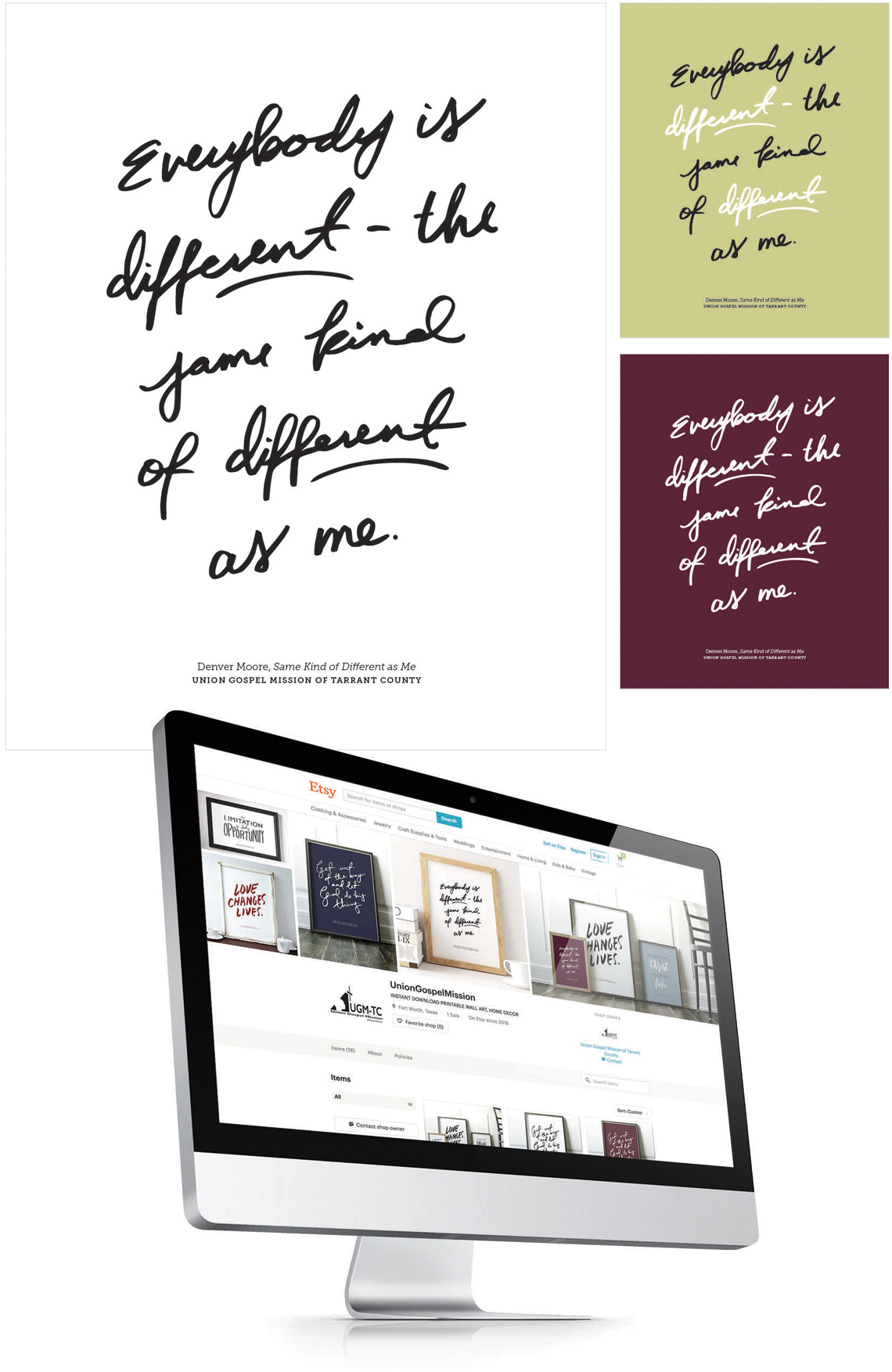 Awards
2017 Fort Worth American Advertising Awards
Bronze ADDY – Public Service Direct Marketing and Specialty Advertising
Bronze ADDY – Integrated Media Public Service Campaign
2017 Worthy Awards
Worthy Award – Same Kind of Different as Me: Making a Difference Campaign – Pro Bono Public Relations