We're Addicted to Coffee and We Know It
National Coffee Day is September 29. Um, pretty sure every day is National Coffee Day at Balcom. But nonetheless, we're excited. Well, we will be after we've had our coffee.
In honor of this momentous day, we felt it necessary to email the Bs and ask about their coffee-drinking habits. We threatened to remove the office coffee supply, so the response rate was uncharacteristically high.
However, the mood was not. In response to Could you give up coffee tomorrow? the negativity came in hot: Why would I do that? That's a joke, right? Are you paying me? Is hell freezing over? I'll give up coffee when fish fry. (That's an inside joke here at Balcom. We'll explain in an upcoming blog.)
OK. Got it. Next, we asked the Bs to rank their coffee addiction (1 = don't drink it/10 = JUST GIVE ME A COFFEE IV). They averaged an 8, which didn't seem too bad.
Then we calculated our annual coffee consumption: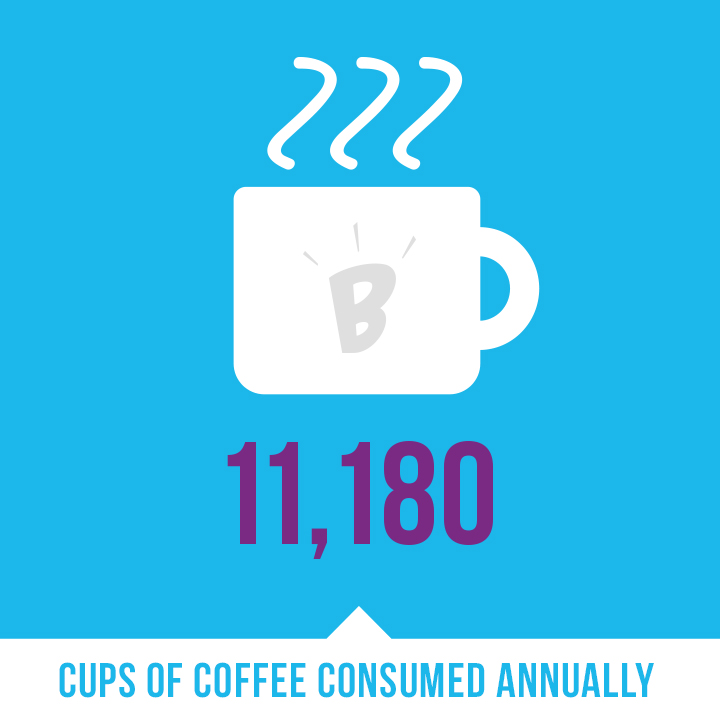 Uh, so we might have a problem. The good news is: our coffee vendor loves us. Plus, we know where to get a good cup of joe:
Artisan, micro-roasted coffee makes for a really great drink. You can't go wrong here.
Because they draw pretty pictures in your latte foam, which makes even the coldest, smallest heart grow a few sizes. Oh, and both the décor and the coffee is amazing.
Great coffee, friendly staff and a cozy atmosphere.
Nice, relaxing place to enjoy coffee and a pastry. They have a great French Roast.
Want to try something new? Here are some of the Bs' favorite coffee brands:
Illy: Ground Espresso
Kauai Coffee: Kauai Blue Mountain Peaberry
Kicking Horse Coffee: Three Sisters Blen>
Kona Coffee: Medium Roast
Trader Joe's: Organic Wake Up Blend
Read more about our favorite Fort Worth lunch and happy hour spots:
Blog Author: Jennifer Haynes, Former B teamer.