Found: 10,000 Steps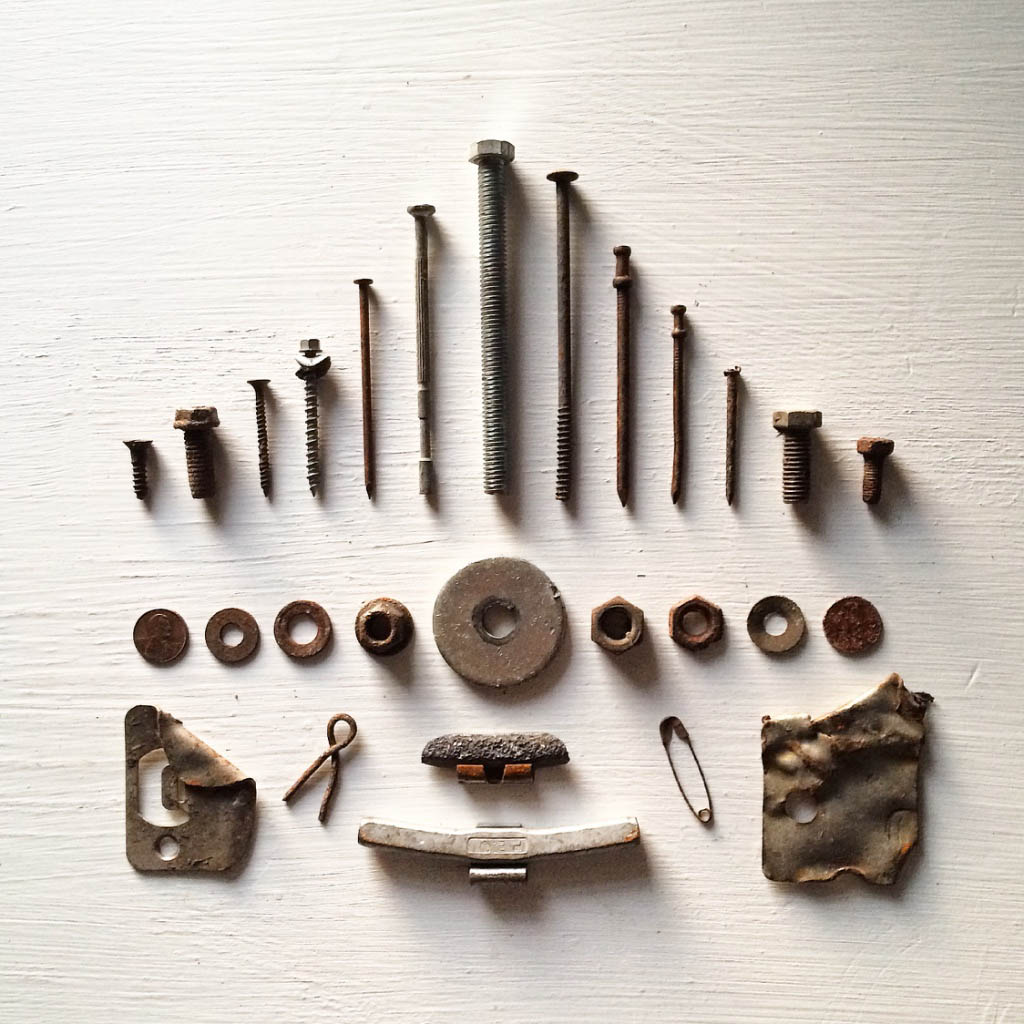 This year a new tradition was born at Balcom: B Wellness Month. The idea was to encourage Bs to do little things that could add up in big ways. Things like drinking more water, moving more during the day and swapping candy for fruit. The #Bwell team also challenged us to add something extra to our usual exercise routines. While a bunch of Bs hit the bikes at Zyn22, I decided to hit the pavement.
My goal: 10,000 steps a day.
Well, little did I know that 10,000 steps a day equaled about five miles. All that walking got boring pretty fast, so I started picking things up to pass the time. Nails, bolts, nuts – anything that wasn't dead or too gross. When I got home I dumped the found stuff on a table and then couldn't help but organize it. I snapped a pic and posted it to Instagram. That's how it started.
Fast-forward to June 1 and I'd logged 30 straight days of 10,000 plus steps per day – 166 miles! All in the rainiest month in Texas history.
It turned out to be a grand adventure. Met a lot of people with dogs (and cats without people). Learned what tire balance weights look like. Found out the hard way that dead flattened snakes look a lot like pieces of metal. Confirmed that most of us have a few loose screws – I found them. Discovered I live within 4,500 steps of a Starbucks going either east or west. (Yes!) Collected 87 cents, one Chuck E. Cheese token, a peso and a fortune in random rusty artifacts. All adds up to 30 souvenir photos, a few blisters and plenty of good-natured teasing from fellow Bs. (Maybe I will get the metal detector.) Cue the Sanford & Son music and it's a wrap.
Editor's note: The B team loved following Carol throughout this initiative. And yes, cracking some good-natured jokes. Fun fact about Carol: She gets her title "Champion of Wow" from her extensive sports background. A former TCU basketball superstar, she continues to stay active as a serial yogi, surfer and leader of walking meetings. With her passion for fitness and equal love for obscure super foods, she makes us all more encouraged to step up our health game.