Tips to Drive Traffic to Your Website with Facebook
Many see Facebook simply as a place to post clever comments or funny photos, but it can be a valuable marketing tool. Utilize it and you could be well on your way to having that fun social site be the top traffic source for your website.
Tip #1: Share compelling content (most important)
Ask yourself Where do I want fans to go?, then share different types of content to direct them there. The possibilities and tactics are endless. Look to other similar brands to your own or the biggies for inspiration. See what they do that works and mold it to your needs.
Example: The clever team at Target saw National Bike to Work week as an opportunity. They created a buying guide on their website and with a humorous post, directed customers to visit.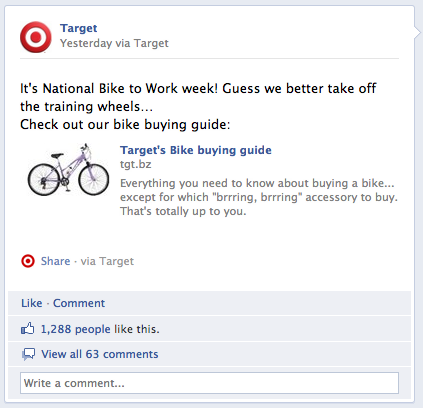 Tip #2: Entice the click
When offering a discount to fans, rather than including the discount code within a Facebook post, tease it along with a link to find it on your website.
Example: PFI Western Store uses sale prices to get their fans to click through to see the boots on the website.

Tip #3: Add social media and share links to your site
If customers like your product, blog post or YOU, let them tell their friends. Include social share icons throughout your site. With each click of a Like or share button a post shows in the news feed for everyone to see along with a direct link back to the site.
Example: National Jewelry Liquidation Center offers a new deal each week. To help spread the word, they have Twitter, Facebook, email and even Pinterest added on their site to let visitors share the deal with their friends.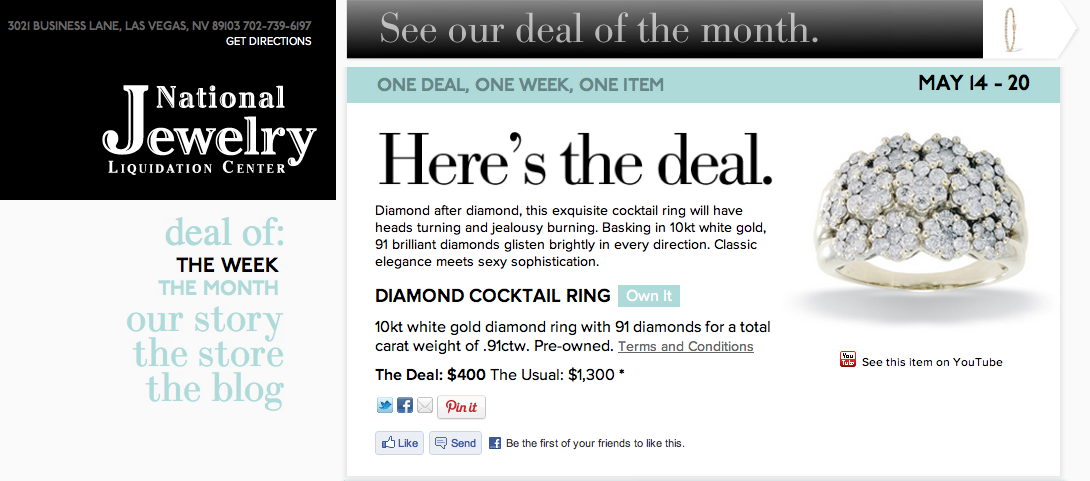 Tip #4: Utilize Facebook tabs and applications
Since a Facebook tab is simply a mini-website, it's a great location to highlight certain products, services or even run a promotion for fans.
Examples:
We help drive to our clients' websites with these Facebook tabs.
Promotions can be run entirely on Facebook, you can also use your social media reach to push entrants to your website to enter instead.
Tip #5: Build a strong network with partners and allies
Build relationships with other companies/blogs by sharing their content to your fans and tagging them. They usually will reciprocate the favor and help broaden your content's reach. Don't for get to always B polite and thank those who share.
Tip #6: Fill out you profile
You might be thinking Duh!, but I'm serious.The most important entry field in your profile is website. We also suggest listing your web address first in the About section. Every time someone looks at your profile image, they can see and click through to your website.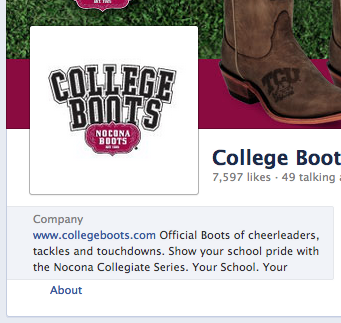 Continue reading: How to drive traffic to your website: Twitter