Lesley Dupre Promoted To Account Director And PR Specialist At Balcom Agency
Thursday, December 15, 2016
News
Lesley Dupre Promoted To Account Director And PR Specialist At Balcom Agency
FORT WORTH, Texas – Dec. 15, 2016 – Balcom Agency has promoted Lesley Dupre from account manager to account director and PR specialist. In her new role, Dupre will continue to lead results-driven marketing strategies for such clients as the Neeley Executive MBA Program at TCU, Mrs Baird's® Bread and Ball Park® Buns.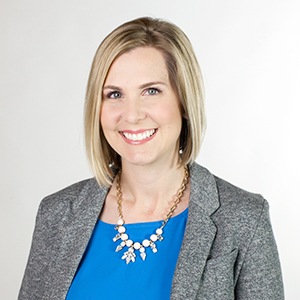 A member of the Balcom team since 2010, Dupre has helped strategize and implement communications projects for clients across multiple industries, including higher education, retail, consumer goods and finance. In addition to putting her project management skills to work on the account service team, she also lends her public relations and social media expertise to several of the agency's clients.
"Since joining the B Team, Lesley has consistently demonstrated her agility and depth of knowledge in each role she assumes, while achieving outstanding results," said Kim Speairs, APR, MBA, director of client services and PR specialist. "She brings many talents to the agency and our clients, and all with a positive, team-player attitude. I can't wait to see what she'll accomplish next."
Beyond her work for Balcom, Dupre also serves an active role as board member for Greater Fort Worth Chapter of the Public Relations Society of America (PRSA). While she will be known by a new official title at Balcom, Dupre will continue to own her secondary moniker at the agency: "Les Is More," a play on her talent for developing simple marketing strategies that go above and beyond for clients.
About Balcom Agency
Balcom Agency is a talented team of matchmakers in the business of making people fall in love with brands. The agency uses powerful insight, creativity and technology to push for greatness in every project. Whether it's branding & advertising, web development & digital marketing, film & video production, media planning & buying, PR & social media, consulting & training, or all of the above, Balcom makes sure it all works together. Founded in 1993 and located in Fort Worth, Texas, Balcom makes all this happen for clients in health care, pharmaceuticals, fashion, food, retail and beyond, including Dairy MAX, Mrs Baird's Bread, the Neeley School of Business at TCU, Sinclair Oil Company, Cavender's and PCCA. To learn more about the agency's award-winning work, visit BalcomAgency.com.