Blogging 101: 8 Rules for Writing Your First Post
Blogging 101: 8 Rules for Writing Your First Post
Think you're ready to start a company blog? Here are eight rules to follow when you write that first post – and every other post after.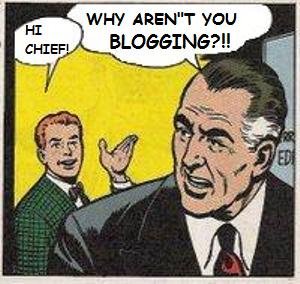 Image by Michael Licht
1. Know your goal.
Your ultimate goal is to gain more business (or more support, if you're a non-profit), but keep in mind the goals specific to the blog. Things like:
Get more web traffic
Collect email addresses
Gain trust
Build a community
B smart: To build authority with potential customers and with search engines, don't try to sell something every five minutes.
2. Write stuff your audience wants to read.
Content should be:
Related to your business
So useful and/or amusing people want to share it with friends.
Not an ad for your product or service.
If you're a medical company, write about healthy lifestyles. If you're a nonprofit, write about people you've helped. If you're a B2B company, write about industry legislation and best practices.
B smart: Posts with tips, tricks and how-tos are especially popular.
3. Write an intriguing and specific title.
Specify what's in the post and why it's valuable to your readers.
"Sack Lunch Ideas" is boring
"Make Every Day Delicious" is vague
"12 Easy and Delicious Sack Lunches" is both specific and interesting
B smart: Include relevant keywords for search engine optimization.
4. Make it easy on the eyes.
Chances are, your readers' eyes are already tired of the screen. Huge Dostoyevsky blocks of copy could scare them away. Break up the text with subheads and bullet points. Readers should be able to tell what you're saying at a glance.
B smart: Train yourself to keep posts under 500 words. It's okay to occasionally write a longer post that's more in-depth (i.e., "everything you need to know about X").
5. End with a call to action.
Give people something to do when they finish reading. For instance:
"Read more" (followed by links to posts on similar topics)
"What's your favorite sack lunch? Tell us in the comments!"
"Like this article? Pass it on!" (followed by share buttons for Facebook, Twitter, Pinterest, etc.)
B smart: Choose calls to action based on your main goals. Sharing is great for traffic; comments are great for community-building.
6. Add a picture.
Use a photo a relevant photo that's striking or amusing to draw the eye and help break up the text. Only use pictures you own, or have permission to use from the owner.
B smart: Search the Creative Commons section of a photo-sharing site like Flickr for images you can legally use (as long as you link back to the owner).
7. Post on a schedule.
You don't have to post every day – five posts a week can be daunting to your subscribers as well as your writing team – but posting one to three times week, preferably on the same days (e.g. every Monday, Wednesday and Friday) is ideal.
B smart: Share your own posts on your social networks. You can connect some networks (like LinkedIn) directly to your blog to post new article links automatically.
8. Reply to every comment.
Answer questions and thank people who compliment the content. Strike up conversations with your potential customers.
B smart: Don't feed the trolls – in other words, don't try to argue with people who post inflammatory comments just to get a rise out of you. Instead, shut them down with something benign like "Thank you for your input." Consider implementing a Comment Policy reserving the right to ban trolling, strong language, racial slurs,etc.