5 of Balcom's Favorite Healthy Recipes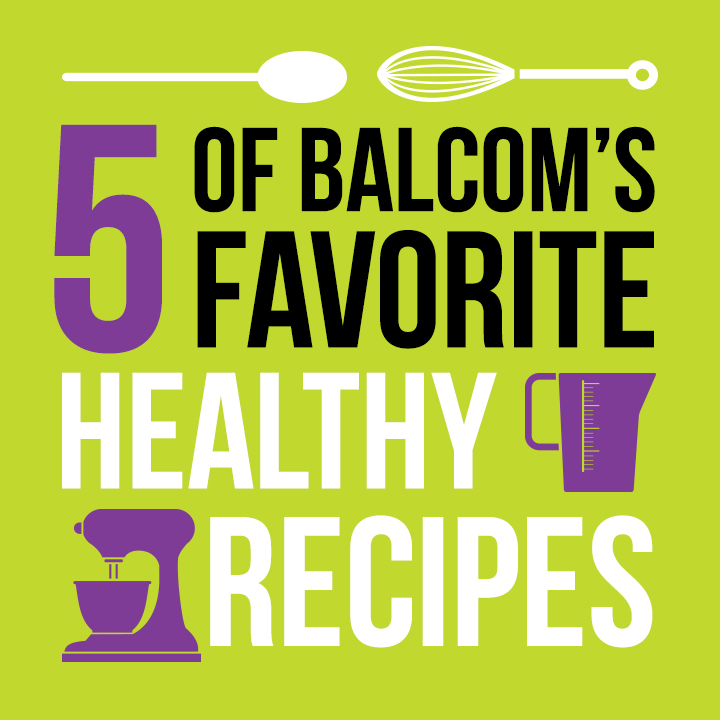 If you haven't heard yet, Balcom is celebrating National Physical Fitness and Sports Month. We have a multitude of blogs and graphics to teach us easier ways to be healthy. Today, the B team has shared some of our favorite healthy recipes.
I think I was chosen to compile the recipes as a not-so-subtle hint that it's time for me to cut back on my current "dad bod" physique. Hopefully, some of the recipes below can help me do just that. Download printable recipe cards and try them out!
Feel free to add your favorite healthy recipe in the comment section!
SALAD
Cranberry, Swiss Chard & Almond Salad
Recipe by Amie Valpone
A favorite of Ashley Freer
Ingredients:
4 oz. organic salad greens
1 head Swiss chard, finely chopped
4 Tbsp. dried cranberries
3 Tbsp. whole raw almonds
1 tsp. fresh lemon zest
¼ tsp. fresh lemon juice
3 Tbsp. extra-virgin olive oil
2 Tbsp. balsamic vinegar
¼ tsp. sea salt
¼ tsp. pepper
Instructions:
In a large bowl, combine mixed greens, Swiss chard, cranberries, almonds and lemon zest; set aside.
In a small bowl, whisk lemon juice, olive oil, vinegar, sea salt and pepper.
Drizzle lemon juice mixture over the salad ingredients in the large bowl; gently toss to combine.
Serve.
VEGETABLE
Mashed Cauliflower
Recipe by Alan Parchman
Ingredients:
Cauliflower
Yogurt
Horseradish
Salt
Pepper
Instructions:
Steam cauliflower.
When soft, mash with potato masher.
Add yogurt, horseradish, salt and pepper to taste.
MEAL
Spaghetti Squash Lasagna Boats
Recipe by Tastes Lovely
A favorite of Jenna Simard
Ingredients:
1 (2.5-3 pound) spaghetti squash
1 tsp. olive oil
2 sweet Italian sausages
½ yellow onion, chopped
2 garlic cloves, minced or grated
2½ cups marinara sauce
¾ cup ricotta cheese
½ cup chopped frozen spinach, thawed and all moisture squeezed out
1 cup shredded mozzarella cheese
salt and pepper
Instructions:
Preheat oven to 350 degrees. Cut the spaghetti squash in half lengthwise, and scrape out all the seeds and seed membrane. Put the spaghetti squash cut side up in a 9x13 baking dish. Roast uncovered for about 40 minutes. Remove from the oven and allow to cool for at least 10 minutes.
While the spaghetti squash is cooling, make the sausage marinara sauce. Heat a medium-size skillet over medium high heat. Add 1 teaspoon olive oil. Then snip the casing of the Italian sausage and squeeze the meat into the pan. Break it up with a spoon, and cook for about 5 minutes. Then add the onion to the sausage, and cook another 5 minutes. Then add the minced or grated garlic, and cook for 1 minute. Then add the marinara sauce, and turn the heat to low.
In a small bowl, make the spinach ricotta mixture by combining the ricotta cheese and spinach. Stir to combine, and season with a pinch of salt and pepper.
Once the spaghetti squash are cool enough to touch, scrape the noodles out with a fork, and transfer the noodles to a medium-size mixing bowl.
Turn oven up to 425 degrees.
To make the lasagna in the squash, layer the empty squash as follows: marina sauce, ¼ of spaghetti squash noodles, marina sauce, ricotta cheese, mozzarella cheese, ¼ of the spaghetti squash noodles, marina sauce, ricotta cheese, mozzarella cheese, marinara sauce, mozzarella cheese. Repeat with the second spaghetti squash. Bake them uncovered in the same baking dish for 15 minutes, or until the cheese is melted and golden brown. Allow to cool for 5 minutes before eating.
MEAL
Zucchini Chicken Bites
Recipe by B.Britnell
A favorite of Alyssa Barr
Ingredients:
4 cups of zucchini, shredded (about 2 medium zucchinis)
2 pounds of ground chicken (or turkey, or other meat)
½ cup sweet onion, diced
2 large cloves of garlic
¼ cup fresh cilantro, chopped (can use more or less depending on your preference)
2 tsp. of salt
1 tsp. freshly ground black pepper
oil for cooking
Instructions:
Thoroughly combine zucchini, onion and ground chicken in a large bowl.
Add in the remaining ingredients (minus oil obviously) and mix together well.
Spoon balls about 1 tablespoon large into pan and lightly press down with fingers.
Cook each bite for 5 minutes on each side.
DESSERT
Chocolate Brownie Bites
Recipe by Kendra Benson
A favorite of Mendy Sass
Ingredients:
1 cup raw almonds
1½ cups pitted Medjool dates (approximately 10-11 dates)
3½ Tbsp. cocoa powder (try to use the good stuff)
4 Tbsp. shredded unsweetened coconut
⅛ tsp. salt
1 tsp. pure vanilla extract (I never measure, so pour in what makes you happy)
Water
Instructions:
Combine all ingredients (except water), in the order listed, in the bowl of a food processor.
Process until mixture resembles coarse gravel.
While the processor is running, add a thin stream of water, about ½ tsp., maybe less depending on the moistness of your dates.
Stop the processor and check the mixture inside. If it sticks together when you smush it, then you've got the right consistency. If it's still crumbly, add more water. You don't want to add too much water because the bites will be too sticky.
When you've got the right consistency, roll mixture into tablespoon-size balls. Yield varies depending on how much you eat while you're rolling them.
Store in an airtight container in the refrigerator for a week or so, if they last that long.