10 Unique Fort Worth Christmas Gift Ideas
To make your Christmas shopping a little easier this year, we've put together a list of 10 great gifts that celebrate Fort Worth and its local businesses. There's something for everyone and for every price range.
Support the Fort Worth community by shopping local this year – we promise you can't go wrong with these recommendations!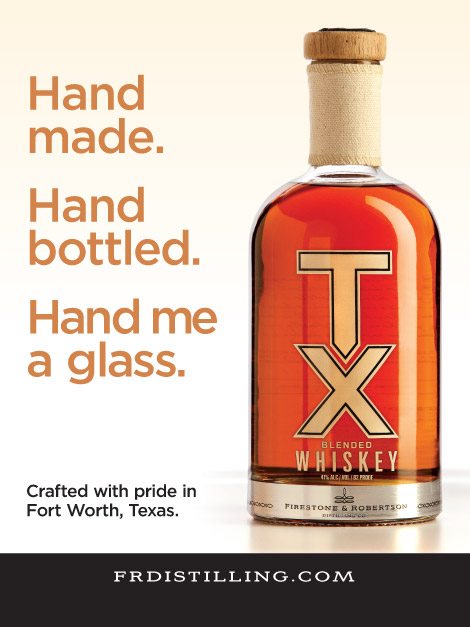 FOR HIM:
Bottle of TX Blended Whiskey*
Man grunts. Man pounds chest. Man proclaims: "Me love whiskey." Well, at least we know they can say the "L" word without coercion. If you give a bottle of TX Blended Whiskey (under $40), "whiskey" might be interchanged with "you." Blended by Firestone & Robertson Distilling Co. here in Fort Worth and available at most liquor stores in Texas, each bottle of this award-winning, crowd-pleasing whiskey comes with its own unique leather bottle cap.
Hot Towel Shave & Haircut from Fort Worth Barber Shop
Could women's affinity for men with facial hair – combined with the growing trend of hipster beards – be responsible for the increase in birth rate for the first time in five years? We can't be sure, but we do know that the gift of a hot towel shave and haircut ($50) from Fort Worth Barber Shop on Lovell Ave. is an experience like no other – it will leave your man feeling like a gentleman.
Pair of Justin Boots*
How many pairs of cowboy boots does a man need? That's a trick question. This is Texas. This is the stuff that real men are made of; one can never have too many cowboy boots. Established in 1879, Justin Boots has been headquartered in Cowtown since 1925. Check out their outlet store at 717 W. Vickery for unbeatable deals, or visit JustinBoots.com to buy online.
Outing to the Vintage Flying Museum
One of Fort Worth's hidden gems, the Vintage Flying Museum near Meacham Airport (just north of the Stockyards) restores vintage aircraft, and their rotating display includes a World War II B-24 bomber. Anyone with an interest in history or aircraft will enjoy the museum ($8 adult admission). Treat him to lunch at Joe T Garcia's Mexican restaurant before the museum, and end the outing by taking him to see the World War II drama "Unbroken," premiering Christmas Day.
Jess Hall's Serendipity Seasonings*
Established in 1972 in Weatherford, Jess Hall's Serendipity seasonings are now made here in Fort Worth. Purchase a selection of these delicious seasonings (most are $5 and under) to make the perfect gift basket for the grilling or cooking enthusiast in your life. Buy them online, at any Brookshire's Grocery, or at Roy Pope's Grocery.
FOR HER:
Candle from Aluèur Candles
Made right here in Fort Worth, these hand-poured candles smell incredible and also come in a beautiful box. Fragrances include their best-selling French Market, as well as Crème Brûlée and Tobacco Leaf. Buy them for just $20 at Scentimentals Gift Boutique on Vickery Blvd., or purchase them for $40 online at Aluèur's website, where they ship for free to any regular address in the continental U.S.
Spa Package Gift Certificate from Perfect Touch Spa
Perfect Touch Spa on Bledsoe St. has been a favorite of Fort Worth locals for years. The Perfect Getaway spa package ($175) includes an aromatherapy full-body massage, a facial, and a seaweed or herbal body wrap – all enjoyed over the course of two and a half hours. You'd be hard-pressed to find a woman who wouldn't enjoy this type of pampering.
Don't underestimate the gift of flowers this holiday season, especially since it's an occasion when most women won't expect them. Established in Fort Worth in 1992, The Enchanted Florist creates some of the most beautiful arrangements around. Have them make something special – we guarantee you'll be pleased with their creation.
Outing to see "The Nutcracker" at Bass Performance Hall
Women love to dress up and have a night out on the town. Start with a walk around Sundance Square to see the 58-foot-tall Christmas tree and get in the holiday spirit. Then head to Reata Restaurant to treat her to dinner before heading to Bass Hall for the Texas Ballet Theater's performance of "The Nutcracker." It will make for an unforgettable evening.
Bracelet from LovelyB Jewelry
Allison Boenker, a graduate of Fort Worth's Texas Christian University (TCU), launched Lovely B Jewelry in 2012 and women have been smitten ever since. The bracelets ($19.99) are simple and elegant, and look great by themselves or stacked with others. The Holiday 2014 Collection is now available, and all varieties of colors can be found online. You can also buy them at local stores like Maven on Camp Bowie.
FOR FIDO:
Toys and Treats from Wag
Don't forget to buy your best friend a Christmas gift this year! Wag, a pet boutique and bakery owned and founded by Fort Worth native and TCU grad, Hannah Witten, is located on Foch St. and has an awesome selection of toys, treats, leashes and collars for man's best friend.
Like this? Read more:
—
* Full Disclosure: Some of these are Balcom clients. What can we say? We really love their products.
Blog Author: Jennifer Haynes, Former B teamer.