Work-life Balance? 5 Things I've Learned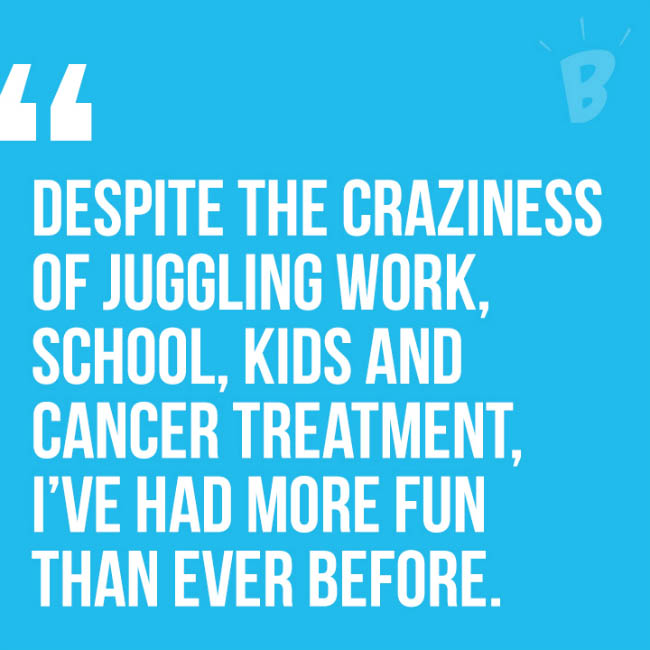 For National Fitness Month, I was asked to write about work-life balance. The problem is, I don't believe work-life balance exists. At least, not in the traditional sense – where you achieve a perfect balance between time at work and time enjoying life outside of work.
For me, it's not about achieving this perfect balance. It's about making the most of the time you have when you have it. It's about bringing the same level of passion and commitment to all areas of your life – even if the time you spend on each is not in balance. It's not always easy or restful or what you expect, but it's so very rewarding.
In August 2013, I began the Neeley Executive MBA program at TCU. As a single mother, I especially worried about balancing it all – my kids, school and work. But, as crazy as it sounds, I've achieved better work-life balance these past two years than at any other point in my life.
Here's what I've learned along the way:
1. Get help. Or ask for help. I've always been fiercely self-sufficient, but I knew I needed help managing everything. At home, that meant hiring a nanny to pick up the kids, help them with homework and make dinner. At work, that meant delegating work and asking for help from my fellow Bs.
2. Wake up early. Or stay up late. To maximize time with my kids, I studied from 3 a.m. to 6:30 a.m. during the week. That way, they could be my sole focus from the time I got home from work until bedtime (for all of us) at 9 p.m.
3. Eliminate time sucks. I love TV. After all, I work in advertising. But, I have to keep the television off to be able to bring the same energy I have at work to the time I have with my kids.
4. Realize there's no such thing as the "perfect time." Too many times, we postpone pursuing our dreams to some "perfect time" in the future when we believe we'll be less busy at work or home. Truth is: You never know what's coming next. I postponed starting my MBA when a family member was diagnosed with cancer. The next year, when she was in remission, I thought it was the "perfect time" to start. Just three months into the 16-month program, I was diagnosed with breast cancer. Fortunately, it was caught early, but it meant surgery and a full year of preventive chemotherapy. So much for the "perfect time."
5. Find the fun in everything you do. Despite the craziness of juggling work, school, kids and cancer treatment, I've had more fun than ever before. From laughing as my kids modeled my wigs; enjoying meals and gifts my co-workers and clients brought during my recovery; visiting with friends and family who flew in to see me; connecting with my classmates during team meetings, happy hours and our trip to South America; to putting what I learned in class to work for the agency; it was all good fun.
Today, I have two happy, well-adjusted kids, strong support from friends and family, an amazing work team, a successful career at one of the top agencies in the Metroplex, an MBA and, most importantly, a clean bill of health. I'm one lucky woman.
Enough about my work-life balance, how do you find yours?
Blog Author: Kim Speairs, Former B teamer