What the Heck Is Snapchat? Should My Brand Be Using It?
It's a question we've probably all asked ourselves at some point: "What the heck is a Snapchat?" But it's 2016 now, and we all pretty much recognize that, hey, this Snapchat thing is kind of a big deal – like, maybe-on-the-cusp-of-world-domination big deal. And it's not just for your 13-year-old niece who says weird things like "on fleek" all the time – at least not anymore.
While well over half of users are 24 and under, 25- to 34-year-olds – you know, dinosaurs – make up more than a quarter of daily active users, and about 12 percent are older than that. Point being, not only is Snapchat the fastest-growing social media network, it's steadily diversifying its user base as well.
So what does that mean for your business? Glad you asked! But first, let's define what exactly Snapchat does, and how consumers and brands are using it.
Snapchat is about capturing the moment.
To the uninitiated, Snapchat's nonlinear layout and foreign lexicon can be daunting, confusing and even downright maddening. But soon you'll notice that there's really only one major difference between Snapchat and other social media titans like Facebook, Twitter and Instagram: Everything you share is temporary.
When you take a "snap" (a fancy term for a highly customizable photo or video), you can either send it as a direct message to friends or post it to your "story" (a compilation of all your snaps posted within the last day). If you send it to a friend, the snap is subsequently erased from history – like it never even happened – the moment your friend views it. (Technically, they can take a screenshot of your snap, but the app will notify you if they do.) Similarly, snaps posted to your story disappear after 24 hours, though they can be viewed over and over until then.
That's it; there are no endless timelines, no paper trails, nothing permanent. And that's the app's singular charm: Unlike the Facebooks and Instagrams of the world, which document our lives on and on into eternity, Snapchat is all about the now.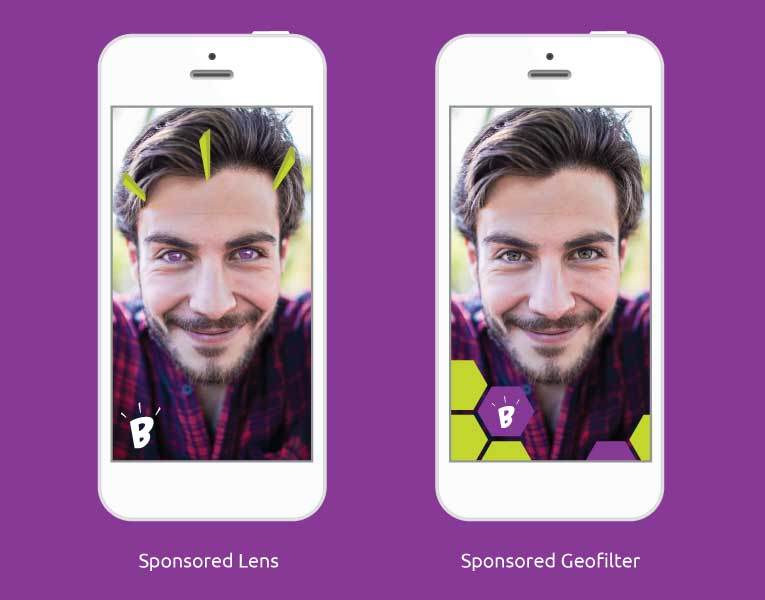 "The difference between Snapchat and other social media titans: Everything you share is temporary."
But hey, Snapchat can be a marketing tool, too.
So how do businesses use it? Well, there are several ways:
Create and maintain a normal account. This one's fairly obvious, but from an end-user perspective, Snapchat treats businesses the same as anyone else. You can sign up for an account, document your business with snaps and post them to your story for your followers' enjoyment, just like your average selfie-snapping Snapchat user. You don't need to register as a "Page" and you don't really even have to pay anything; all you need is a smartphone, some followers and a little know-how. (We have that last one.)
Sponsored geofilters. Now we're getting to the fun stuff. Geofilters are just what they sound like: location-based filters for individual snaps. Like Instagram, but instead of simply changing the hue or exposure of a photo, it superimposes a branded graphic illustration on top of the original image. After taking a snap, users can swipe through a list of filters specific to their location. For instance, you could take a snap inside a coffee shop, swipe through the available geofilters and find an option with the shop's logo on it. Or maybe you're at a nonprofit's charity dinner and want to share with others the great time you're having. For special events in particular, geofilters can be an awesome marketing tool – a fun and immersive way for people to share their experience, with your brand's logo attached.
Sponsored lenses. Probably the best-known Snapchat feature, these interactive motion graphics can transform your selfie into anything from a puppy dog to a taco face. Location-based options aren't currently available, which means sponsored lenses are available to all Snapchat users (all 100 million of them), regardless of location. So yeah, this is a far more expensive option. But it's also one that, if executed properly, can be a worthy investment with far-reaching benefits for your business.
Snap Ads. With the advent of pre-roll advertising on platforms like YouTube, video remains a highly efficient and relevant option in an increasingly mobile-centric world. Snap Ads embody this, essentially serving as pre-roll spots that play between your friends' stories. Unlike traditional video, though, these are vertical, full-screen video ads with the option to scroll up for more info and a call-to-action, which gives them a higher click-through rate than normal video ads.
Makes sense. Now what?
Snapchat is a rapidly growing medium that can reach lots of highly targeted users, but it's also relatively new technology that requires a great deal of expertise (which we have, wink wink). In other words, not every business needs a Snapchat account, but if the proverbial shoe fits, it can be a valuable asset.
So whether you're ready to sign up or just wanna shelve the darn thing altogether, there are some questions you should ask before making a decision. Questions like, "Who, exactly, am I trying to reach? Where and how frequently do I want to reach them? What is my end goal? What metrics are important to me? What is my budget?" Basically, everything other than "What the heck is a Snapchat?" We answered that above, remember?
If you think Snapchat might be a good fit for your business, or if you're even remotely curious, drop us a line.
Blog Author: Balcom Agency writer
Tags: PR & Social Media