Secret Lives of B's: Advertising Head. Servant Heart.
Work doesn't stop at the office for Ashley Freer, a group director and one of the principals at Balcom. She also extends her skills in communications and her passion for service to the community. It's one of the reasons Ashley was recognized this summer among Fort Worth Inc.'s The 400: Fort Worth's Most Influential People and in 2013 among the Fort Worth Business Press' 40 Under 40.
Ashley began her journey into communications as a young girl who loved broadcast journalism and writing.
"I was the kid who would stand on the fireplace with a turkey baster to report the news," Ashley confessed with a laugh. "I've just always been very word-centric with a strong desire to communicate."
That ambition led Ashley to start her career in technology public relations at Ogilvy's Atlanta office – a job she loved. Client service came easily as she worked on the business-to-consumer team that supported icons such as Discovery.com and EarthLink. But two years later, she was interested in a different adventure and pondering next steps. Then, 9/11 happened and stirred her heart to action.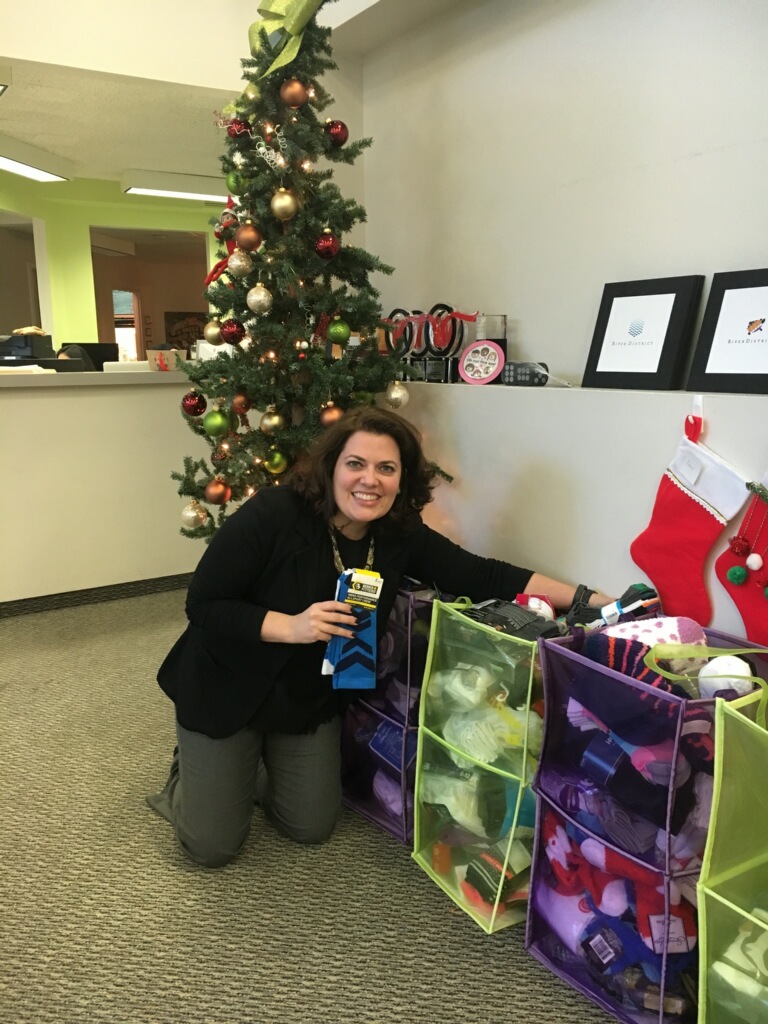 Service kicked up a notch
Ashley pivoted to the nonprofit world, joining the Atlanta History Center marketing department, using her college minor in history to promote the importance of remembering our past. She also picked up skills in fundraising while working on the Swan House Ball and helped promote exhibitions on everything from fashion to historic houses and gardens.
In 2002, Ashley joined the Junior League – a women's organization committed to voluntarism and developing the potential of women.
"You are immediately getting engaged in your community because the League is about promoting voluntarism," Ashley explained, "meaning that it's good for us to volunteer – to do something for somebody else with no desire for a return of any kind."
Even when her career shifted back to the for-profit sector a few years later, Ashley continued her community work with the League.
On the professional side, she started work for America's largest building products distributor, BlueLinx Corporation, learning a new industry, co-leading a nationwide experiential marketing effort and working with the communications team on the complex task of taking the company public. Meanwhile, in her off time, she worked with the League on city-wide initiatives, including eyeglass drives and local hospital support.
"My favorite volunteer position in Atlanta was when I read for the visually impaired over the radio for a year," Ashley recalled. "The public access station had a little radio booth, and I would go in and read magazines and other things over the radio for those who couldn't see. The appreciation for that task, and the people who called in to say thank you, kicked me into understanding service in a new way."
Passion transplanted to Fort Worth
Lucky for Fort Worthians, loving her community didn't just apply to Atlanta. In 2006, when Ashley made the move to Fort Worth for graduate school, she maintained her mission of service despite a busy schedule as a student and communications professional. And she remained active with the Junior League, transferring her membership to the Junior League of Fort Worth, all while helping many of the city's companies with their communications strategies as a freelancer for Balcom.
After graduating with a master's degree, Ashley officially joined the B Team in 2009, coming full-circle back to agency life – now bringing a breadth of corporate and nonprofit experience as well as a powerful conviction that, whether through business or charity, there are countless ways to love your community well.
Ashley has since used her advertising head and servant's heart to help people all over the world fall in love with some of Fort Worth's most iconic brands, from corporate and consumer packaged goods to nonprofits, health care and everything in between. And she has, of course, also impacted the city on local boards, including Mayfest and Fort Worth Sister Cities International.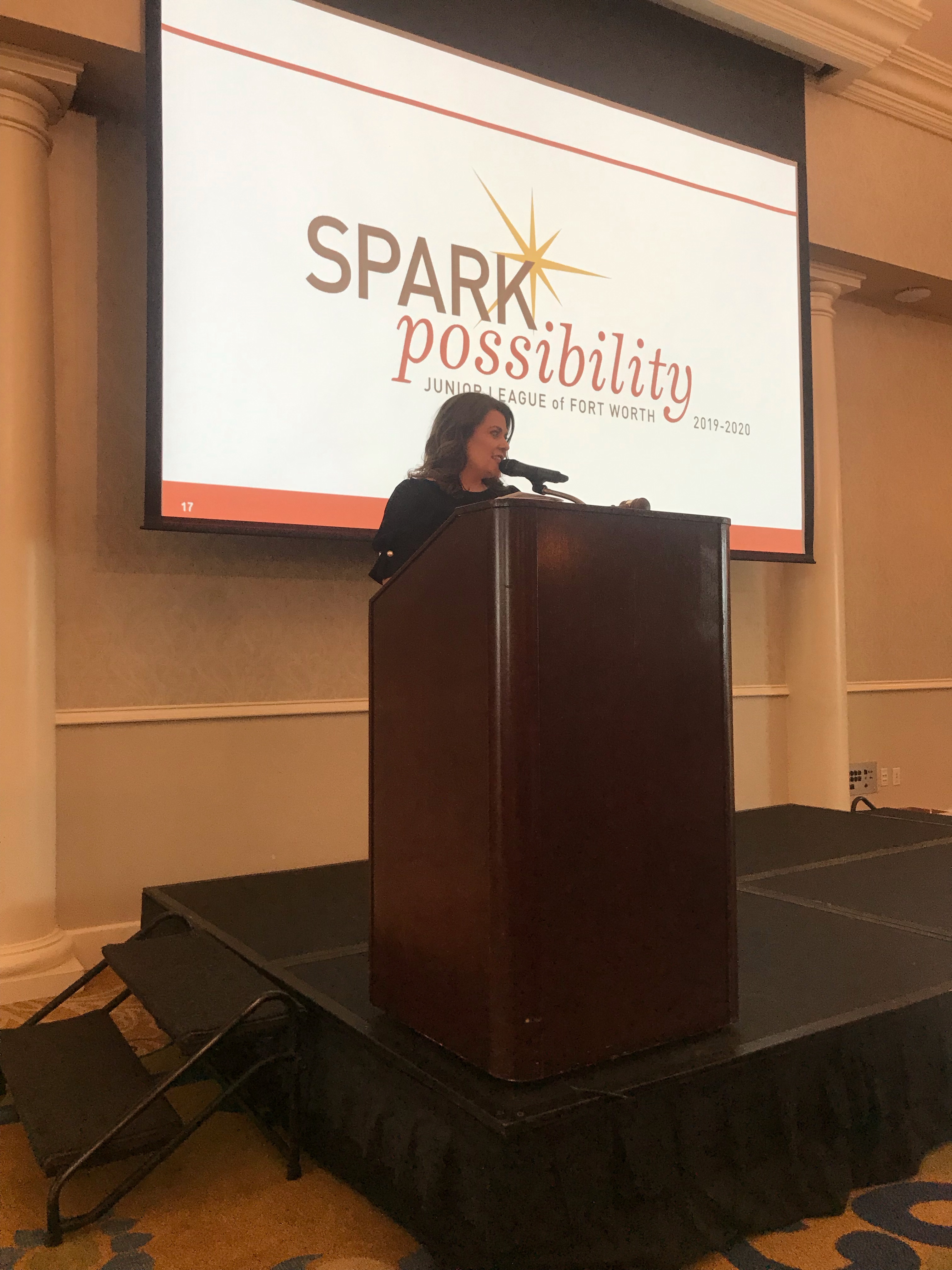 Taking on even more
From June 2019 to May 2020, Ashley took on what amounted to a second full-time job: serving as the 90th president of the Junior League of Fort Worth.
The 10th largest League in the world, the Junior League of Fort Worth includes 2,000 women, with whom Ashley helped "Spark Possibility" in the community – the League's theme that year. Together, they served thousands of hours and raised over $1 million for the third year in a row to support five impact areas in Tarrant County: arts and culture, education, health and nutrition, life readiness and supporting Fort Worth. Organizations that benefited included Historic Fort Worth, JPS Foundation, Fort Worth Youth Orchestra and others. From the ground up, the League also launched Fort Worth's first-ever diaper bank during the 2019-2020 term.
From community to clients
Ashley's spirit continues to shine through her work at Balcom. In 2019, she celebrated her 10-year anniversary as a B, a few years after becoming an agency principal. Today, she continues to serve both national and regional clients such as Cook Children's Health Care System, Dairy MAX, Hippo Sak, Mrs. Renfro's, Presbyterian Night Shelter and more.
"I think loving your community well makes you better at loving your clients. Understanding the big picture behind homelessness, for example, helped me when Presbyterian Night Shelter walked in the door and I could discuss their needs. So as a community steward, I am informing my Balcom work and therefore my Balcom work also informs my community stewardship. It's all connected."
What's next for this busy B?
"This is the first time since 2006, when I began my master's pursuit, that I have dialed back. I have committed to a year of learning, lighter board service and being more of a sponge. And, you know, I have wonderful things to do at Balcom. I love the work we do, and I'm proud of the people we are. That combination is what makes Balcom special."