Newsjacking With Care
Thanks to much-buzzed-about tweets by major brands (e.g. Gap, Sears, etc.) during Hurricane Sandy and her aftermath, the term "newsjacking" has gained recent notoriety in the social media and marketing worlds. And while the term may be new, the practice has been around in some form or another for awhile.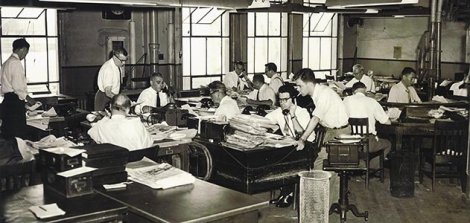 WHAT IS NEWSJACKING?
David Meerman Scott, who literally wrote the book on newsjacking, defines it as "the process by which you inject your ideas or angles into breaking news, in real-time, in order to generate media coverage for yourself or your business."
WHY DO IT?
A successful newsjacking campaign can result in your brand and messaging being effectively woven into a larger news story. It can also improve your SEO and boost your reputation – all for a relatively low cost.
HOW DO I DO IT?
To maximize effectiveness, you must jump in to the news cycle early. This doesn't mean rushing to throw something together once an opportunity arises. Instead, explore opportunities for future stories and implement your campaign when appropriate.
A great example of successful newsjacking: Oreo's tweet during Super Bowl XLVII. After a surprise blackout, the brand took to Twitter: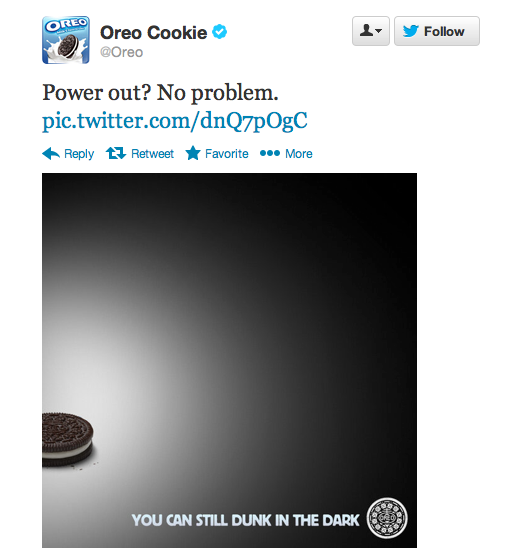 The tweet was buzzworthy not only because Oreo capitalized on the unexpected in a relevant way. The fact that the brand produced an actual ad for the tweet proved to be a savvy move during an event that's watched almost as much for advertising as it is for football.
HOW DO I NOT DO IT?
The difference between scoring points and a potential PR disaster often lies in the news subject itself. Before you decide to newsjack a particular story, ask yourself these questions:
Could the public potentially react negatively to the association of my brand with this specific news topic?
Isthe information I am providing helpful to my target audiences?
Is it possible that another opportunity will arise in the near future that isactually a better fit for my brand?
And lastly:
Perhaps Kenneth Cole forgot to ask himself these questions before he injected his brand into trending #Cairo conversation son Twitter: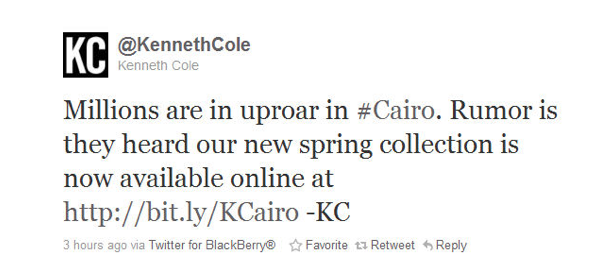 Riding on the coattails of a violent uprising to promote your spring fashion line isn't particularly helpful and surely doesn't seem in good taste.
While the art of newsjacking isn't new, many of the opportunities to do so are. Before you, or your brand, dedicate the time and energy it takes to launch a newsjacking campaign, be sure the circumstances are right and use your creativity to find the absolute best possible fit.