How to Add the Personal Touch for Every Customer
Valentine's Day is quickly approaching. But you may not make the gift-giving Hall of Fame with a heart-shaped box of chocolates if your significant other absolutely loathes sweets. You'll get that special someone a gift you know they will love.
It's the same way with digital marketing. Why serve up an ad to someone you know won't be interested in it?
With nearly 75 percent of online shoppers frustrated by sites whose content (ads, promotions, etc.) is irrelevant to them*, now is a good time to capitalize on the information that data companies are able to collect through users' interactions. Personalized marketing has been around for years in the form of letters, gift baskets, etc. However, with the digital world exploding, marketers have a unique opportunity to get even more personal.
Imagine, for instance:
Getting a notice when that sweater you've been looking at for three months FINALLY goes on sale.
Receiving a special coupon for the TV you've been tweeting about all year long.
Seeing a Facebook ad for a product with your name on it – literally. The Dollar Shave Club uses images on Facebook with the Web surfer's name actually on the pictured box.
Tweeting about your dog's birthday and getting a birthday card from Purina
Effective targeting can be expensive, not to mention time-consuming, and if you're not careful, you can miss the mark (while this is a good effort by SunFrog Shirts, I'm not Celtic). But done right, personalized marketing can have huge returns.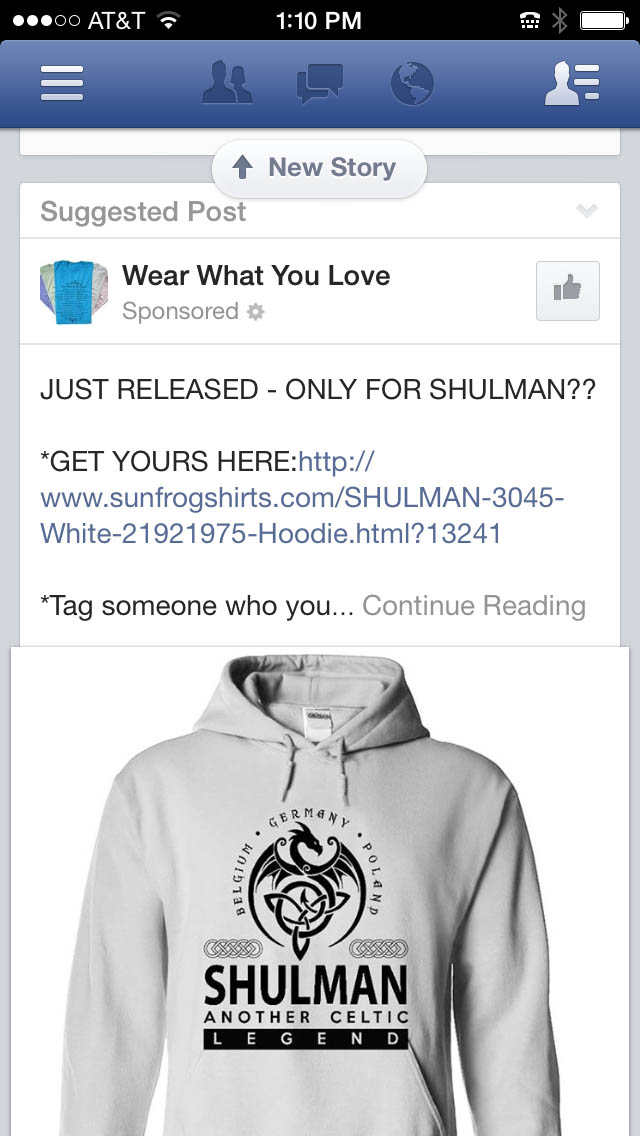 On the contrary, there are also some people who are turned off by this approach, feeling that it's an invasion of privacy and intrusive. But the more you know about your audience, the better you can predict how they'll respond.
While the best approach has yet to be perfected (and likely never will), personalized marketing is a great addition to your advertising toolbox. Take some time to build a personal connection with those interested in your product or service.
And above all else, don't forget the Valentine's Day gift.
Want to get personal with your audience? We can help.
_
*Source: Janrain
Blog Author: Eric Shulman, Former B teamer