Health Care Marketing: Why It Starts with a Healthy Culture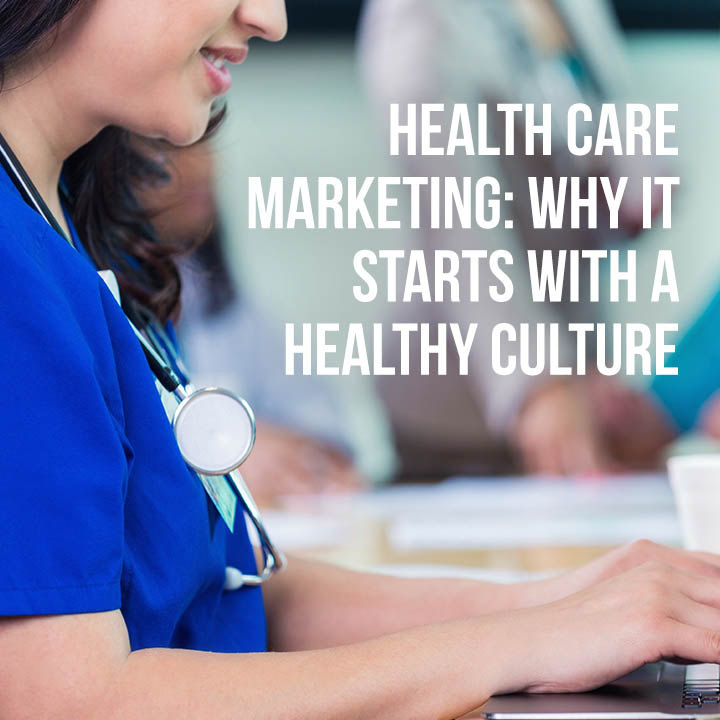 In the Age of the Consumer, stories matter. The organizations that successfully tell the right values-driven stories are the ones that succeed long-term. But when organizational core values aren't concrete, people lose focus – and, unfortunately, the bad stories are often the ones that go viral.
That's why for organizations today, marketing is a holistic process; it's not just about trying to get the public to believe in what you're selling. It's about believing in and being what you're selling as an organization, too – living out your best story through the interactions your employees have with each other and with your patients and their families each day. Great marketing starts on the inside – with defining core values and corporate culture.
Demystifying the buzzword
The term "corporate culture" gets tossed around a lot. But, quite simply, it's a core value system shared and lived by all employees. A collective mission. Think of culture as a cognitive map helping direct employees on their path to achieving that mission.
In the health care industry especially, where people are an organization's greatest asset (or point of pain), defining and maintaining a healthy culture is vital. Across the board, the health care industry is in flux. Patient satisfaction levels are under constant scrutiny, competition is continuing to grow and health care structures are becoming more complex. Now, more than ever, is the time to make sure your foundation is solid.
"In the health care industry especially, where people are an organization's greatest asset (or point of pain), defining and maintaining a healthy culture is vital."
So where do health care organizations start?
Developing and nurturing a healthy culture takes a village. While the process of defining culture should start with leadership, human resources managers play a vital role in guiding employees to embrace those principles.
Leadership builds the foundation by:
Defining who the organization is, what makes it different and where it's headed
Modeling core values and behaviors
Motivating employees and instilling pride through strong vision, positive leadership and recognition of their contributions
HR managers maintain structure by:
Hiring, training and developing employees based on core values
Responding to employee concerns and providing feedback
Helping make the work environment enjoyable and reflective of the core values
Counseling or terminating employees whose actions don't align with the core values
Once core values and culture are defined, marketing managers can share these messages with external audiences – aligning communications across the entire organization and ensuring that the brand promises made to patients are actually delivered.
So what story does your leadership team tell your physicians and staff? What story do physicians and staff tell your patients? Do they align?
Contact us to learn how Balcom can help you define and strengthen your organization's core values and culture.
---
Kim Speairs, APR, MBA, has more than 20 years of experience working with health care organizations to find creative solutions to communications problems. She's worked with a variety of organizations in the industry, from such regional health systems as USMD Health System, Texas Health Resources and Norman Regional Hospital, to pharmaceutical companies like PCCA and Clark Pharmaceuticals, and medical device companies including ConvaTec and Ortho Clinical Diagnostics.
Blog Author: Balcom Agency writer
Tags: Consulting & Training, Culture, Healthcare