Give a girl the right pair of shoes and she can conquer the world. ~~Marilyn Monroe
Give a girl the right pair of shoes and she can conquer the world. ~~Marilyn Monroe
I attended the ADDY® awards program of the Advertising Club of Fort Worth (now American Advertising Federation – Fort Worth) for the very first time in 1987. I was a young professional going to my first industry gala. This important moment in my career required the perfect dress.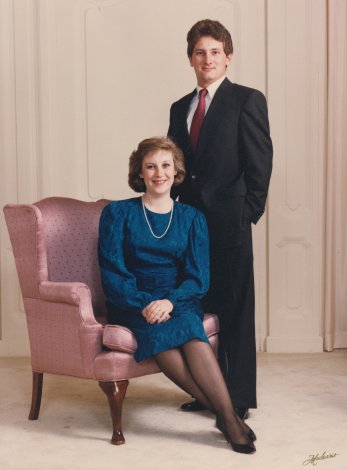 ~~ Lynne and Tim Swihart, 1987 ~~
Jan Blanchard (later of Blanchard Schaefer Advertising) and I went shopping on our lunch hour at a chi-chi boutique on West Seventh Street that is long-gone. I found a perfect turquoise silk dress that nipped my waist in perfectly and accentuated my eyes. It was love at first sight – until I saw the price tag. This gorgeous confection cost more than my wedding dress. I was prepared to put it back and go find something at Casual Corner. But Jan convinced me thatI was worth it and I made a charge purchase that took months to pay off. I don't think I ever told my husband what I had spent!
As I reviewed my closet this weekend to find an outfit to wear to the 2013 edition of the ADDY® awards, I found that dress hidden in the back among other cast-offs and forgotten items. It hasn't fit in years, but I can't bear to part with it. It was my first 'grown up' purchase; an investment in my professional personae. It reminds me of a young woman who was so happy to be in an exciting career.
I now have dozens of awards and galas tucked into my portfolio of memories. And there have been many pretty dresses, along with some killer shoes. This dress, however, is the symbol of them all.
Best of luck to all of my colleagues in the awards races this season. May the best-dressed win!