The First Rule of Risky Marketing: Do Your Homework
The First Rule of Risky Marketing: Do Your Homework
The most successful marketers know that it's not enough to simply keep up with trends. To really make your mark, you have to help set them – and that means taking risks. But risk-taking isn't the same as carelessness. In marketing (as in life), the risks that really pay off are the calculated ones – and they all start with doing your homework.
Whether you're developing breakthrough creative, testing a new media channel or simply doing something you've never done before, you've got to know the lay of the land if you want to land the big one. Here are the basics:
1. Know the current climate
We think of risky campaigns as being funny, offbeat or scandalous – but those are just the most obvious examples of risk-taking. In times of economic uncertainty, you can take a risk by taking a stand. On Black Friday of 2011, Patagonia launched a campaign that literally told people not to buy their products. Recounting the environmental cost of everything they make, they urged consumers, "Don't buy what you don't need." It was completely unexpected, but it struck a chord with a country in the midst of an economic downturn. In 2012 – which included about nine months of the "buy less" marketing – Patagonia sales increased by almost one-third.1 But it wasn't some cynical reverse psychology ploy; by creating messaging that was not only sensitive to the economic conditions but also consistent with the company's brand values, they attracted like-minded people who, when they needed a jacket, chose Patagonia.
2. Know your audience
Old Spice's "The Man Your Man Could Smell Like" is by now a well-known example of creative risk-taking:
But what may be less well-known is that the campaign's success – data shows sales and volume growth in the high-single/double digits2 – was largely due to how well it targeted women. Based on research revealing that 60 percent of men's body washes were actually purchased by women3, the brand's agency sought to appeal to both sexes and spark a conversation between men and women.
3. Know your competition
Sometimes, it's as simple as zigging when everyone else is zagging. When Balcom created a new campaign for Northstar Bank, we started by understanding as much about the client as possible, developing a brand architecture that highlights its unique combination of big-bank resources and small-bank relationships. Next, we looked at the competitive field's advertising – and saw a sea of sameness. People conducting transactions, working on laptops, shaking hands – banking was boring. Even the good stuff seemed … safe. So we took a different tack. By combining animals and objects that represent the best of both worlds, we created a campaign that stands out while being right in line with the brand's core promise.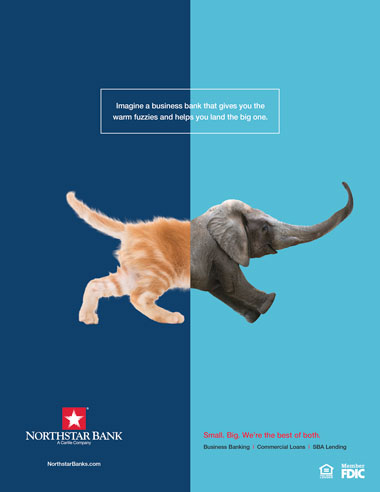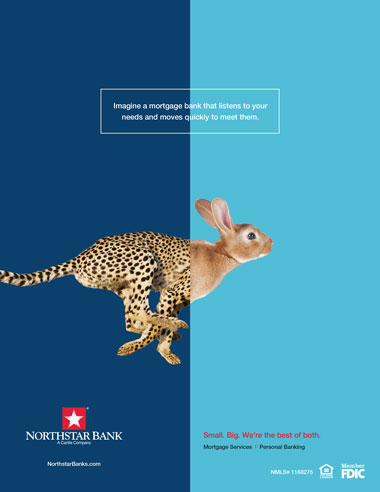 And it's working. Not only did one of the business press representatives tell us that the first ad we placed was the best bank ad she'd ever seen, the stats spoke volumes, too: The campaign's average click-through rate (CTR) for July was 0.14 percent, more than 50 percent higher than the banking industry's average CTR of 0.09 percent.
Want help making your brand stand out? Contact us.
Learn more: