Dad's Words of Wisdom
Nearly 11 years ago I spent my first night in the San Diego State University dorms. Since my roommate wasn't moving in until the following morning, I was all alone, ready to begin a new adventure 100 miles away from myparents, brother, friends and the home I grew up in.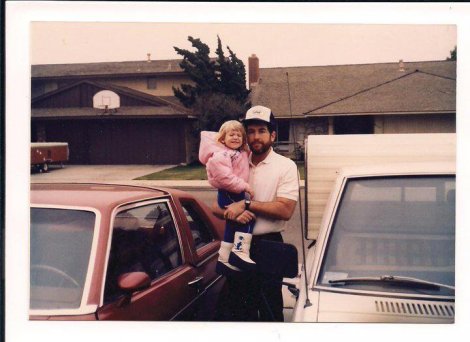 (Photo: Lesley and her dad, Mike. La Palma, California, circa 1985)
As I lay down to fall asleep, I found a note under my pillow. It was typed, and that meant two things: it was from Dad, and it was important.
DON'T BE AFRAID TO FAIL. BE WILLING TO TAKE A CHANCE.
Whatever you do, Mom and I will be there for you.

Love,
Dad
Though simple, his words were just what I needed at that moment. I still have that note and I read it every now and then to remind myself to "go for it" and that no matter how old you are, your parents' (especially your father's) support sometimes makes all the difference.