The 3 Biggest Signs Your Product Packaging Needs a Makeover
We've all heard the cliche: It's what's on the inside that counts. But when it comes to consumer packaged goods (CPG for those in the know), the outside matters a whole heck of a lot, too. In fact, customers may never get to try the inside if they're put off by the outside.
How important Is CPG packaging design?
72% of American consumers say their purchasing decision is influenced by the packaging design. (Ipsos)
59% of consumers have compared packaging between products to make a purchase decision. (WestRock)
74% of 18 to 25-year-olds are likely to share a product on social media. (DotCom Distribution)
If your product already exists, you know that the packaging process is pretty involved, and a redesign should not be undertaken lightly. So how do you know when it's time? These are a few of the biggest signs:
You're oldschool. And not in a good way. Your original packaging might hold sentimental value for you, but potential customers can see outdated packaging as a sign that you're losing your relevancy. This is especially important if you're trying to reach a new audience.
You're adrift on a sea of sameness. Some product categories are notorious for producing a slew of lookalikes, particularly in terms of color choices. You'll see a lot of white and pastel colors in the cleaning aisles, while the salsa shelf is awash in red. If your product gets lost in the crowd, it might be time to find ways to stand out.
Your sales are hitting rock bottom (shelf). If everything else in your organization seems to be going right, but sales are still taking a dip, then it might be time to refresh your packaging. The right redesign can attract new customers, reinvigorate existing ones and create substantial buzz around your product – all of which can translate into increased sales.
"Your original packaging might hold sentimental value for you, but potential customers can see outdated packaging as a sign that you're losing your relevancy. "
So you've decided that you're ready to make the packaging redesign plunge. Before you jump in, take some time to consider the following issues:
Make sure your stakeholders have clarity and consensus around the goals of this project and are aware of any mandatories (like colors and logos).
Understand it's about the long game. There's often a slight drop in sales when new packaging debuts, but brands that have done it right will see a rebound and then some.
Choose a designer who does their research. The artist who designs your new packaging should understand what achieves maximum shelf impact – things like color theory, eye-tracking studies and packaging innovation trends. This will help you make the most strategic (read: sales-friendly) decisions on a final design.
And while you're in the process of the redesign, be sure you are checking these boxes as well:
Reinforces emotional connection and tells a good story
Creates a sense of continuity so customers don't get confused
Is flexible enough for line extensions and scalable for social media and other marketing efforts
Balcom client Mrs. Renfro's – a much-loved, family-owned salsa brand based in Fort Worth – recently partnered with us for a branding/packaging redesign project. They hadn't changed their packaging in 20 years, and not only did the look need to be modernized – it was starting to blend in with competitors.
With the goals of increasing sales and attracting a new, younger audience – without losing the Texas/family vibes – the team's approach involved combining a clean, minimalist illustration style focused on ingredients with a vintage color scheme filtered through a modern lens. The end result is a packaging design that evokes a feeling that's both nostalgic and contemporary. All of this set the stage for messaging and a creative platform that tells the whole story. So far, it's all added up to a 4.4% increase in sales volume and a 1,000% increase in millennial growth.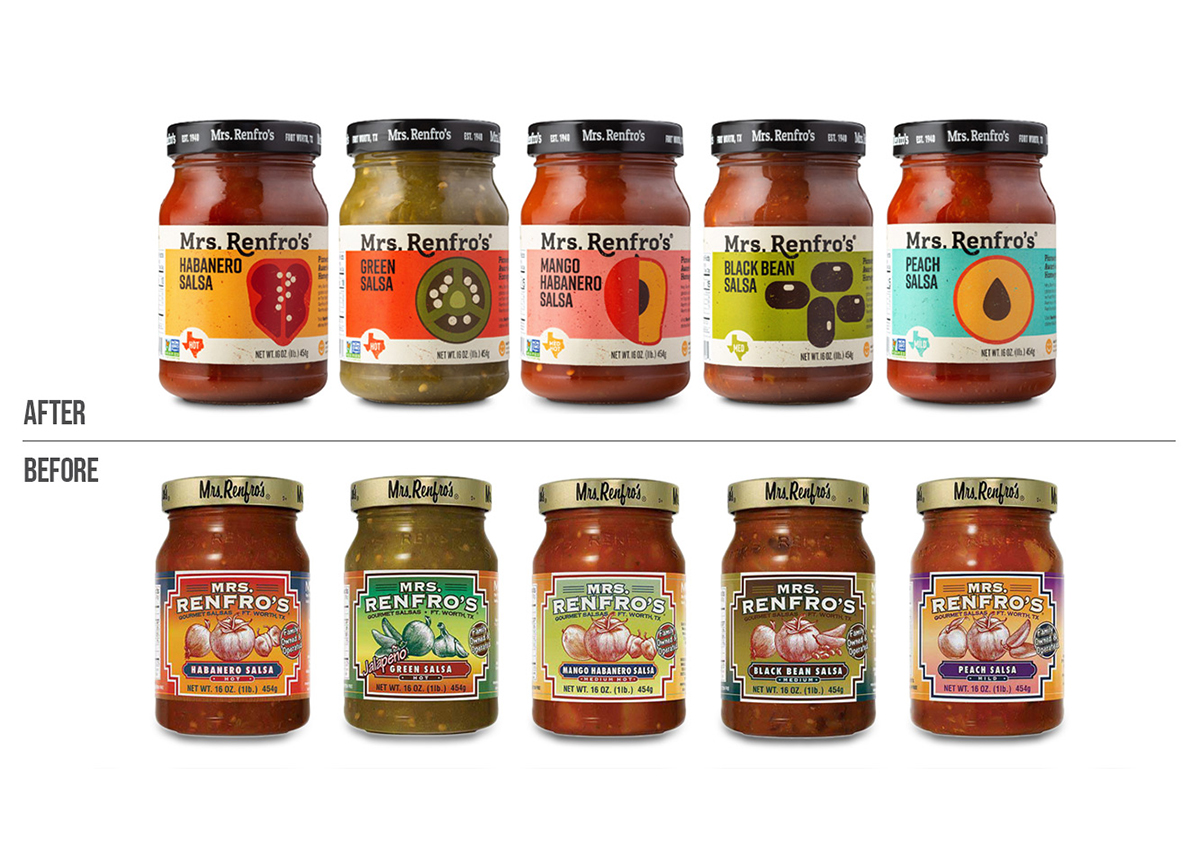 So, is it time to take your packaging to a new place? We'd love to help you get there.
Tags: Design, Branding & Advertising