An integrated campaign helped this historic exhibit draw 90k visitors
Client
Southwestern Baptist Theological Seminary, founded in 1908 and located on Seminary Hill in Fort Worth, is one of the largest seminaries in the world, and one of the last to champion the field of biblical archaeology.
The Challenge
After acquiring seven fragments of the Dead Sea Scrolls – the oldest known copies of the Old Testament – Southwestern Baptist Theological Seminary curated an exhibition of biblical artifacts from throughout history, including 21 total scroll fragments. The seminary selected Balcom to promote that exhibition with a multimedia campaign. The challenge was drawing museum-like crowds to a traditionally educational venue.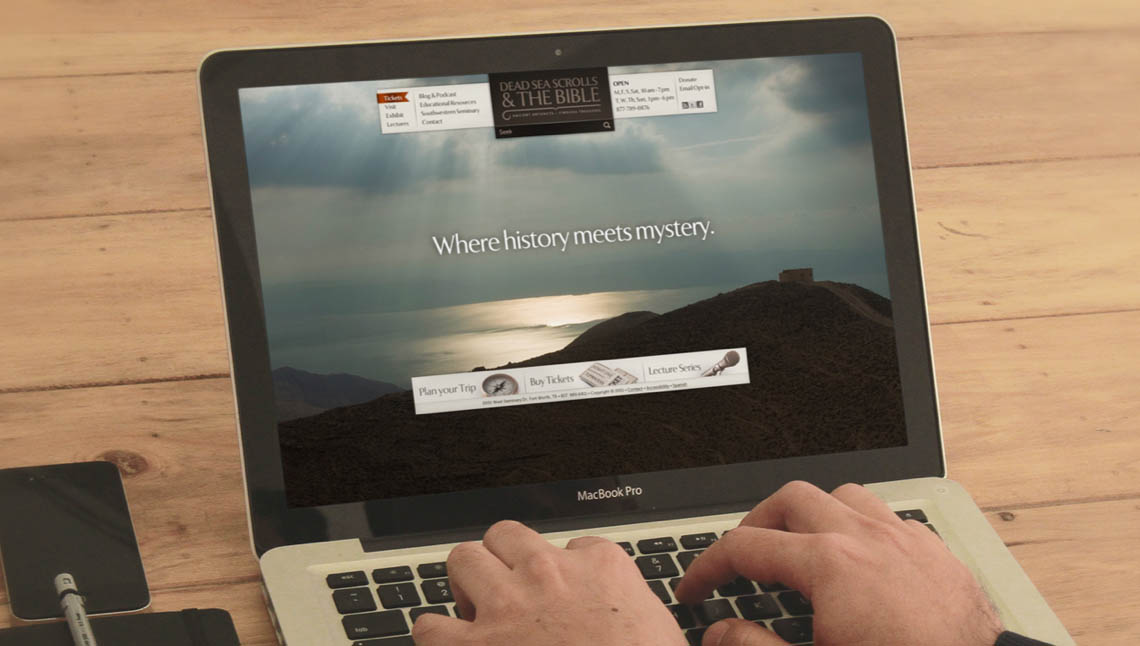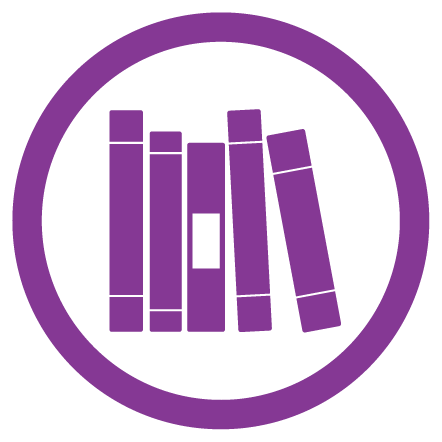 Insight
Starting a full 18 months before the exhibition opened, Balcom researched five similar exhibitions, interviewing curators, reporters, visitors and museum executives; collected attendance numbers; and surveyed average consumers to gauge interest. Research revealed surprise and questions regarding a religious venue hosting a historical/archaeological exhibition.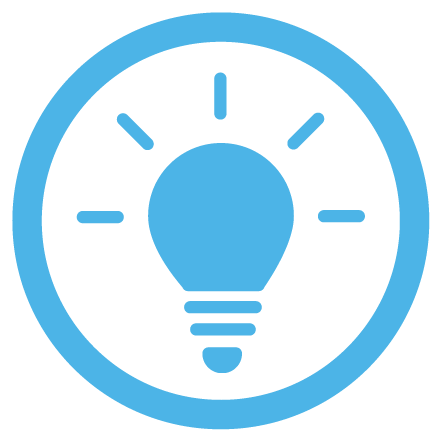 Creativity
Balcom developed an important key message: the scrolls are for everyone—from the seeker (with a curious mind, but no background) to the supporter (who knows theology and/or history well) to the scholar (who studies ancient texts and languages). Talking points, press releases, fact sheets, web copy, radio commercials and television commercials all communicated the personal once-in-a-lifetime opportunity to see ancient texts – some of which had never before been seen publicly. We even helped connect the seminary with local influencers like the Kimbell Art Museum and the Fort Worth Convention and Visitors Bureau.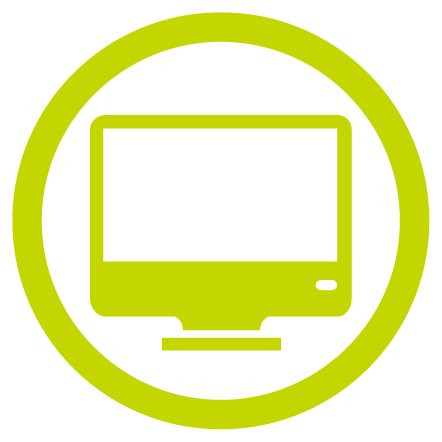 Technology
We negotiated deals with Groupon and then-popular geo-location services like Facebook Places, Foursquare and Gowalla. We reached out to popular bloggers and online travel sites. And we tracked everything, tallying publication circulation numbers; following coupon code usage; and evaluating analytics from Google, Facebook, YouTube, Twitter and TripAdvisor.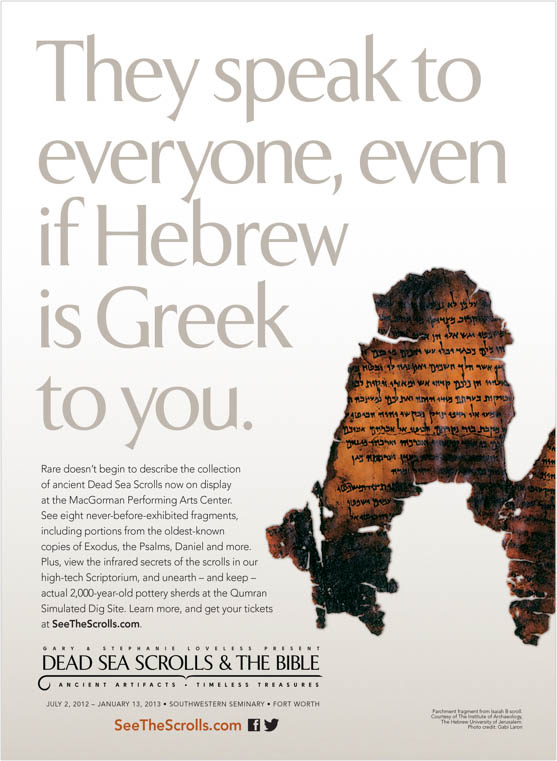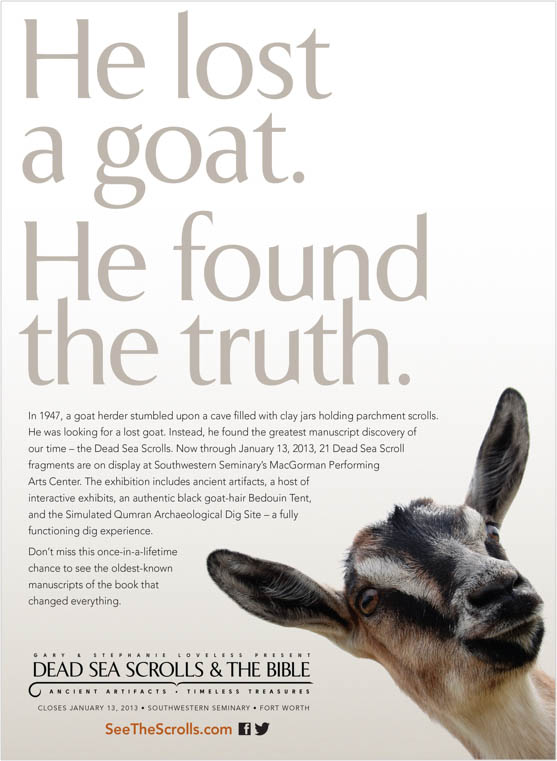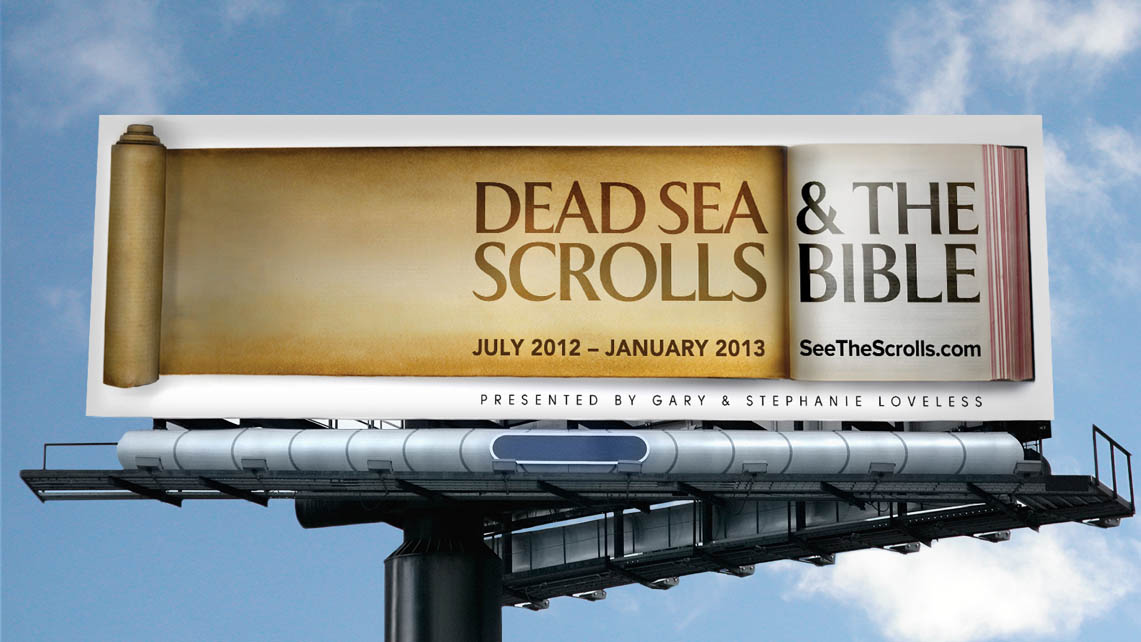 The Results
89,640 exhibition visitors
Stats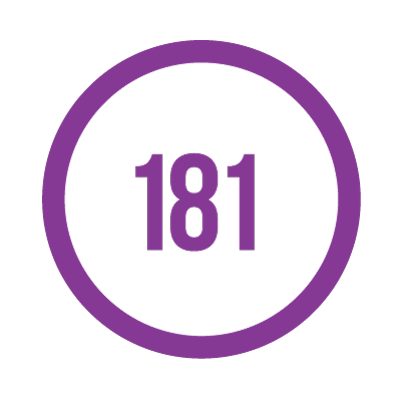 181 million total impressions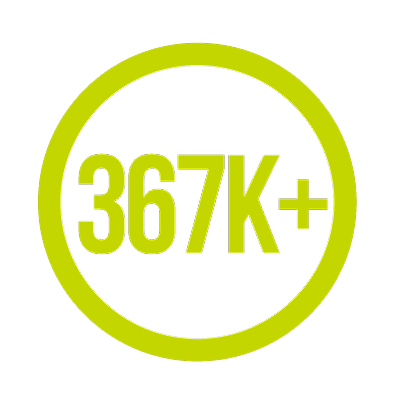 367,011 total web visitors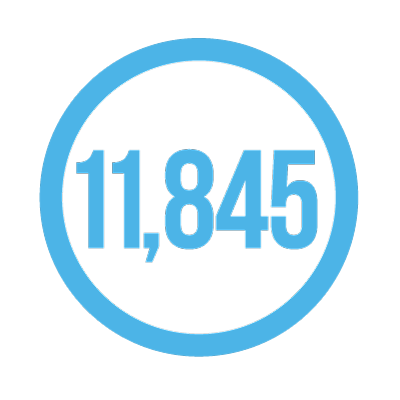 11,845 Facebook fans – double the goal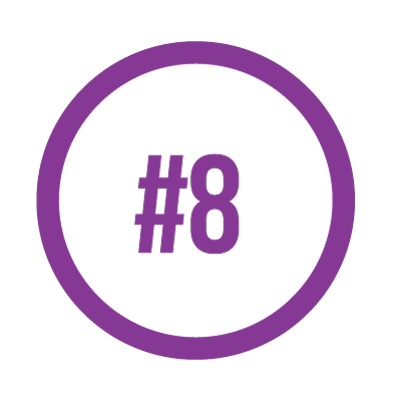 Ranked #8 of 75 attractions in Fort Worth on TripAdvisor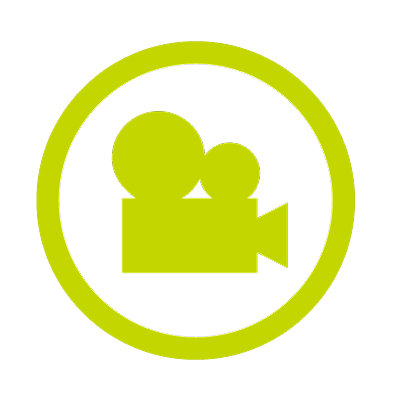 Four live broadcasts on CBS (which boasts DFW's largest evening audience) on opening day.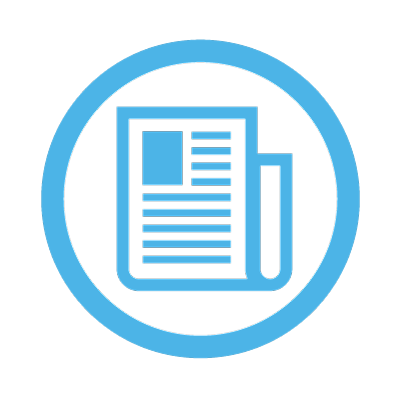 Coverage by high-profile publications such as The New York Times.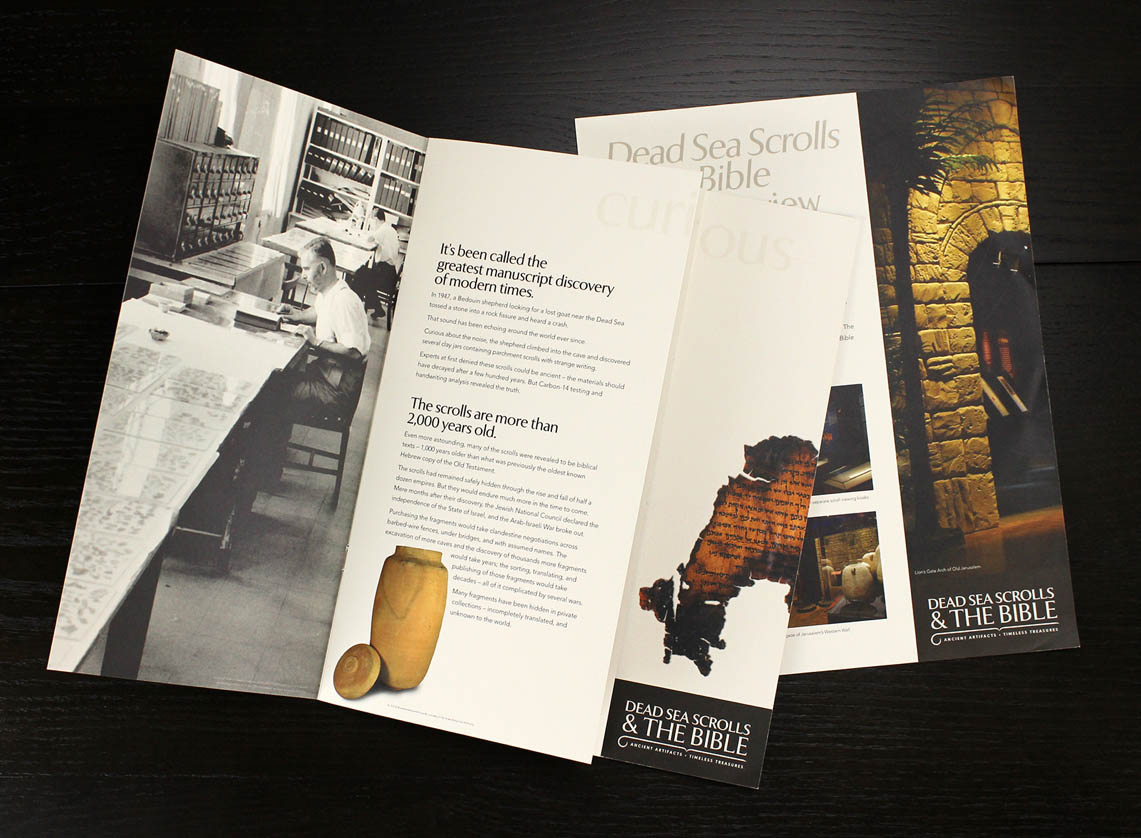 Awards
2013 PRSA Worthy Awards
Worthy Award in Integrated Marketing Communications Programs for the Dead Sea Scrolls & the Bible: Ancient Artifacts, Timeless Treasures campaign
Worthy Award in Brochure writing and creative for the Dead Sea Scrolls & the Bible: Ancient Artifacts, Timeless Treasures exhibition
2013 Local American Advertising Awards
One Gold ADDY for a consumer/trade publication ad
One Silver ADDY for a consumer regional/national integrated campaign
One Silver ADDY for a sales/information kit
One Bronze ADDY for an out-of-home (outdoor) campaign
One Bronze ADDY for a consumer/trade ad campaign
One Bronze ADDY for a local television campaign
Two Bronze ADDYs for local television advertising, :30 spots
One Bronze ADDY for a consumer/trade publication ad